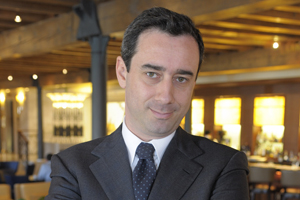 Mario Ferraro has been general manager at the Hilton Molino Stucky in Venice for two years. He has spent 25 years in the hotel business and been a general manager for 15 of them. The 380-room Hilton Molino Stucky, which opened in 2007, has the largest convention centre in Venice including a 1,000m2 ballroom. It has hosted events for companies such as Dell Computers and Royal Bank of Scotland. Major events planned for 2010 include the International Hotel Conference in October. Facilities include 15 meeting rooms for up to 1,000 people.
8am I start my day with a quick coffee at the Molino Restaurant. I talk to the restaurant manager and make sure breakfast is running smoothly.
8.15am I meet with my director of operations to discuss the day ahead - it will be busy as the hotel is full and there are three events being held.
9.00am At the executive team meeting, we review the day's priorities and discuss guest feedback from the previous day. This is followed by a heads of department meeting.
10.00am I walk the floor of our Conference Centre. The Deloitte event for 300 people is on coffee break and I meet with the Deloitte events manager. He is happy with the organisation of the event but would like to move lunch from the foyer to the Aromi Terrace because it's a sunny day.
10.10am We pride ourselves on being flexible, so after a quick briefing with our conference manager, banqueting manager and chef, we are able to switch the lunch venue for Deloitte.
10.30am Time for a site inspection with Levi's Italy. It is the second - and crucial - site inspection as the client will decide today whether to confirm Venice or move the event to Monte Carlo. I have arranged a welcome coffee on the terrace of the eighth-floor Skyline Bar to wow them. Some of the Levi's team clearly show preference for Monte Carlo. It's a tough negotiation and no decision is made immediately.
12.55pm A quick inspection of the Aromi Terrace to make sure it is ready for Deloitte after the last-minute change of venue.
1.00pm Lunch with a local DMC to discuss details about a large pharma event for November 2010.
3.00pm I attend the weekly event meeting to discuss the three big events of next week - San Pellegrino, Napp Pharma and Saint Gobain are all holding events here.
4.00pm We review guest scores at the quality committee meeting and discuss areas of improvement plus ongoing projects.
5.00pm Conference call with a major bank to discuss menu options for its convention next month. Executive chef Franco Luise joins me on the call to tailor-make the menu.
7.30pm Lufthansa Honour Circle cocktails at the Skyline Bar. I greet delegates and give a welcome speech. Our bar manager Marino Lucchetti prepares a special cocktail for the occasion.
8.15pm My mobile is ringing. It's the CEO of Levi's. He tells me that if he can have the Skyline Bar for his gala evening then he can confirm the event. I take the business.
8.30pm Time to go home. I take the shuttle boat from in front of the hotel. It takes three minutes and I am soon back at my home in the Old Town.
Have you registered with us yet?
Register now to enjoy more articles
and free email bulletins.
Register now
Already registered?
Sign in