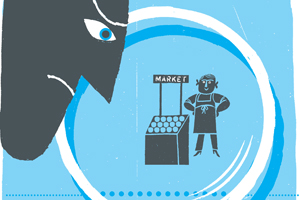 The past 12 months will be remembered as the year when the events industry finally bowed to economic pressure and was forced into making the redundancies that once seemed unthinkable.
According to the responses of the top 50 agencies surveyed, 42.6% said they had made redundancies in 2009, which led to the loss of 136 jobs. And considering that more than 11% declined to answer, the actual figure could be even higher.
Nor did client-side planners escape the cuts. Almost 41% of corporate survey respondents said the number of people at their companies with responsibility including event planning had decreased over the past year.
Among the agencies, MCI Group reduced its workforce by 27, Logistik by 19 and BI Worldwide by 11. But they were not alone. Banks Sadler chief executive Leigh Jagger says: "In 2009, we lost six people across the business. We have a staff of 130 so that was not a huge number. It's the first time we have had to make redundancies but it was a necessary evil."
For other agencies, it was restructuring, rather than financial performance that led to the loss of certain jobs.
W&O Events managed to restrict redundancies to three, according to managing director Paul Bowie. "The redundancies last year were as a result of the restructure, not to do with business," he says.
At First Protocol, like many others, redundancies were avoided but overall headcount fell. "No one was made redundant, but we did reduce our headcount by not replacing people who left," says managing director Mark Riches.
Nevertheless, there are signs that numbers are starting to rise again. Jack Morton Worldwide and DRP Group were among the agencies that said they had increased their workforce in 2009.
Motivcom launched a recruitment drive across its three agencies, AYMTM, P&MMM and Zibrant, at the start of the year. But the future is dependent on the precarious trajectory of client spend, says the group's divisional managing director, Nigel Cooper. "The ability of agencies to react to growth will be an issue," he says. "Do you employ people in anticipation of growth, which could put you out of business if it doesn't materialise? Or do you avoid recruiting people and find that you can't cope when clients double their demands?"
World Events managing director Martin Parry shares that sense of caution. "In 2009, we committed to keeping all our staff in post and we did that," he says. "We moved staff around on to accounts that were busy. We are not planning to make any redundancies and we've rewarded staff through an appraisal system - pay rises dependent on performance. We will be cautious in the first half of 2010 and if we feel we are on track, we will recruit."
There is a growing feeling that the worst is over, with recruitment freezes being lifted and new staff being sought.
Banks Sadler's Jagger concludes: "A year on, we all feel we are in a better place and staff morale is back where it was. We are now recruiting across the board for event managers and venue finders in our York and London offices. It's a combination of new business we have won and growth in existing accounts that is starting to come back."
42.6% of agencies surveyed made redundancies in 2009
40.7% of corporates said number of staff whose responsibility included events had decreased.
Have you registered with us yet?
Register now to enjoy more articles
and free email bulletins.
Register now
Already registered?
Sign in