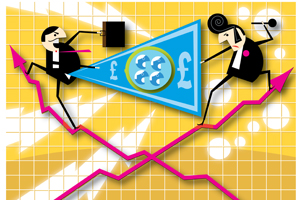 VOLVO
Frank Schultz, live communication manager
Events strategy We are still using events as a marketing tool, but we have increased our attention to new marketing channels and social media. We see the value of events increasing when connected with social media.
Budget Overall, the events budget decreased slightly in 2009 but remained stable. The reason for a slight rise in 2010 is that we have a global dealer launch with a specific budget for the new S60 sedan.
Challenges in 2010 Internally, the challenge is to create awareness that events are not just about having a party at the dealer conference. It is an opportunity to engage with people in an effective way. We are moving away from classical thinking and towards sending motivating messages to people.
TESCO
Kate Conway, internal communications event manager
Events strategy We kept our core programme of internal conferences and meetings in 2009 and will continue to do so in 2010. All these events are very important in terms of sharing and communicating information, and there's a motivational element when staff are able to hear what's happening in a face-to-face environment and respond to it.
Budget Our budget has remained static. The ten internal events I manage, including one AGM and nine internal conferences are vital.
Challenges in 2010 The issue of ROI is not a major concern because we share information and the company recognises this fact. For other firms that have cut back, the issue then is whether there is value in bringing back the events they traditionally ran.
SANTANDER
Ben McKee, head of sales development
Events strategy We have always held on to the idea that meetings have an important place in our strategic plan. From an internal perspective, the objectives are around sharing information and making senior leaders more visible across the business.
Budget Our budget has risen slightly in 2010, which shows the importance of events to us, and with many firms cutting events we believe there is a competitive benefit in having large-scale customer events.
Challenges in 2010 Over the past three to four years we have cut our event agency roster down to one. That way, we can negotiate discounts. The days of having many different agencies are gone. Everybody in the chain has to be adding value.
O2
John Worthington, head of events
Events strategy Most of what we do is the activation of our sponsorship in sport and music, including about 200 events at the O2. We also run 25-30 staff events, where we build experiential activity into conferences. The objective of both is to raise awareness and encourage a love of the brand.
Budget Events make up a large percentage of our marketing spend, but budgets for internal conferences have come down. We are not as extravagant as we were on certain things, so we look at different ways to give a great experience and achieve value for money.
Challenges in 2010 Our budget constraints create challenges and we have to think outside the box for internal events. We've found that the little things make the difference and we have to ensure they don't suffer due to lack of money.
BUPA
Natalie Laws, events officer
Events strategy Face-to-face communication is very important to us but we are looking very closely at our corporate events programme to reduce our costs. There is no point in running an event if it doesn't have an objective and a measurable outcome.
Budget Our budget has increased slightly but it is a case of looking at where extra costs might be warranted. For example, we might look for a greater number of smaller, select events, rather than one big conference.
Challenges in 2010 Our focus is to maintain collaboration across the organisation. One important aspect is to look at the wider industry to ensure our events continue to be fresh, topical, progressive and dynamic.
HONDA
Sue Goddard, conference and events manager
Events strategy As a result of the recession, we cut the number of roadshow events we ran annually from 90 to about 60. One of the key strategies was to concentrate more on the message than the production.
Budget Our budget for events was reduced by 50% in 2009.
Challenges in 2010 Our events budget is due to remain the same for 2010, so our job will be to maintain our profile. That's where we'll need to be innovative and look at doing things we haven't done before.
GOOGLE
Vishal Patel, EMEA head of events
Event strategy Our strategy is focused on the core business and driving support for our online search and advertising products. We will use our events to raise awareness among smallto medium-sized enterprises about the benefits of using our products.
Budget This year we will be running 20-30% more events - we'll be doing 500-700 events in EMEA.
Challenges in 2010 There are sometimes difficulties emulating work we've done in the UK and US in developing countries where we work with local suppliers who have to learn the Google culture.
SCHRODERS
Viki Stapleton, events manager
Events strategy We're doing more events this year because it's important for us to meet clients and develop business leads. Putting our clients face to face with the person from Schroders who they are investing their money with makes them feel wanted.
Budget The budget is valued at £1m, but this year we will be doing 20 to 30 more events so that figure includes additional funds for those, but the budget for each event will stay the same.
Challenges in 2010 My biggest challenge is competing against our competitors' events in terms of quality and experience.
COI
Simon Hughes, director of live events
Events strategy We will use face-to-face events as a tool to create behaviour change. Politicians will have to make difficult choices this year about where they invest money and they will use events to engage citizens early in this process.
Budget All the government departments and agencies say they'll reduce their marketing budgets, but they can't say how much or where the cuts will come. I estimate event budgets will be cut by 20-30%.
Challenges in 2010 Arguing the case for face-to-face events will be an important challenge. The public sector is behind the real world in terms of the recession - it's going to impact us. So unlearning the habits of having a plentiful supply of money for marketing communications events will be challenging.
JOHN LEWIS PARTNERSHIP
Jon White, manager of leisure benefits and partner choice
Events strategy The role of my department is to facilitate and support the full range of around 1,500 events held each year by Waitrose and John Lewis branches.
Budget Our funding has been consistent and is worked out as a percentage of the pay sheet. Having said that, in every area, we are taking tighter control of the money.
Challenges in 2010 One of the challenges is making sure we have the right structures, governance and funding to ensure that what we do, we do well and safely.
Have you registered with us yet?
Register now to enjoy more articles
and free email bulletins.
Register now
Already registered?
Sign in