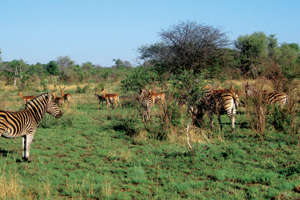 FACTFILE
Client: Scottish Life
Event: Club Excel incentive
Group size: 41
Agency: Euro RSCG Skybridge
Date: 5-10 November 2009
Venue: Madikwe Game Reserve, South Africa
Budget: Undisclosed
Pre-event planning: Scottish Life's Club Excel is a bi-annual reward and recognition event that has featured a range of international destinations for top-performing sales consultants. The most recent location was voted for by Scottish Life staff at the outset of the new programme during their annual sales conference in December 2008.
As a destination, South Africa was an anomaly in that it is the second time that Scottish Life has used it for its event. "We visited South Africa with this client in May 2008, and the trip was such a riveting success that it forced its way back into contention a year later," explains Lucy Webster, account manager at Euro RSCG Skybridge, which has worked with Scottish Life for nearly a decade. "This meant that an additional site visit to the region was not required, with trusted relationships already in place resulting in a substantial pre-event cost saving for the client."
Objectives: Club Excel is designed to motivate Scottish Life's sales consultants, culminating in two prizes every year. "This event is purely about reward and recognition and thanking the top achievers for their hard work throughout the year," explains Webster.
Scottish Life sales manager Keith Halliday adds: "Essentially, the programme is a motivational tool to encourage better performance against pre-determined criteria that change every year. We wanted to build on the legacy of a once-in-a-lifetime experience that would motivate staff and inspire participants to spread the word and put themselves in contention for winning it."
Challenges: The four-day itinerary required meticulous planning. Delegates were flown overnight from London to Johannesburg where they transferred to four light aircraft that flew them to the Madikwe Game Reserve. As each plane landed, ground staff were waiting to collect delegates and take them to one of four lodges.
"Flights were accompanied by our staff and ground agent staff, and rangers were also present at the landing strip, as well as our staff member who had flown out in advance of the group," says Webster.
Inside the game reserve there were further challenges. The vast space and prowling animals on site meant that neither delegates nor staff could travel between the lodges unless accompanied by a qualified ranger. "This made it unlike usual events where delegates can travel fluidly between hotels and venues," says Webster.
Despite the warm weather during the day, the evenings were less predictable, and the stormy nights meant that the scheduled outdoor bush dinner on the Sunday evening had to be moved indoors.
Solution: Webster believes that a South Africa-based safari provided the sort of awe-inspiring experience that is ideal for a rewards event of this kind. "It is not the kind of experience you could easily replicate on a holiday," she adds.
On arrival at the Madikwe Game Reserve, delegates were given a welcome pack and lunch on the terraces of their lodge. "The key was top-level service," says Webster. "There is no cost involved in ensuring good service but it makes all the difference to the guest experience."
The four-day itinerary included six safari trips around the reserve, with early morning excursions setting off at 5.30am. "The early starts were optional for delegates, yet we still had a 95 per cent attendance every morning with barely any coercion," says Webster.
On Sunday afternoon, Scottish Life embarked upon the CSR element of the programme that saw it provide a hamper of stationery, football kits and other supplies to a school in the area. In return, delegates were greeted with a music and dance performance from pupils in the school.
The final stages of the programme saw delegates return to Johannesburg where they were served lunch in the resplendent Moyo Zoo Lake Melrose Arch in the city, with a subsequent overnight flight back to London.
Client verdict: Scottish Life's Halliday says it was the type of event that built on the legacy of the programme. "The whole setting and experience of the safari exceeded all expectations," he says.
"The new competition criteria has just been published, and there is still a lot of buzz about the South Africa trip that is feeding into the anticipation for the next event."
Post-event analysis: Feedback and post-event evaluation forms have also praised the event.
Halliday concedes that it is difficult to quantify the exact impact it will have on sales, but adds that there is a "clear desire and great enthusiasm" among all sales consultants to be part of the next event.
TIMELINE
February 2008: First site inspection takes place in South Africa
May 2008: First Club Excel incentive trip takes place in South Africa
December 2008: At the annual sales conference, delegates vote for a return to South Africa in November 2009 for the Club Excel incentive
January 2009: Competition criteria are published
October 2009: Delegates are registered and winners confirmed
1-5 November 2009: Ground staff and agency prepare for delegates' arrival
5-9 November 2009: Club Excel delegates arrive in South Africa
December 2009: Post-event feedback and evaluation takes place
Have you registered with us yet?
Register now to enjoy more articles
and free email bulletins.
Register now
Already registered?
Sign in