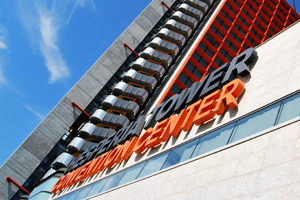 - Hesperia Tower, Barcelona, Spain
The Hesperia Tower Convention Centre, designed by Richard Rogers, opened in 2006 in Barcelona's business district. Its five-star on-site hotel has 280 rooms, while the convention centre offers 5,000m2 of events space. Its 107-metre tall tower makes it one of the tallest buildings in the city.
In late 2008, Imagination staged a Pan-European Fiesta dealer launch at the venue for Ford of Europe. "We were looking for an environment within which we could create an experience that would stimulate and motivate, and one that would stand out in the memory for years to come," says Ford dealer training and launch events manager Tatiana Cherevko. "Hesperia Tower Convention Centre did all of that with ease. Another reason for choosing Hesperia was the visual impact of the venue when delegates arrived. Some attending compared the lobby with a boutique shop or art gallery. Ford's event communication fell under two headings - 'customer' and 'design' and how they're linked together. The new Fiesta was designed to fall in love with and Hesperia Tower Convention Centre was a perfect choice to convey this message."
www.hesperia.com/hotels/Hesperia-Tower
- Palazzo del Congressi di Stresa, Italy
Palazzo del Congressi di Stresa is located on the shores of Lake Maggiore in northern Italy, a 40-minute transfer from Malpensa airport. The conference centre opened in 1958 but has recently benefited from a £3.7m refurbishment. The venue's main auditorium seats 800, and there is also 2,000m2 of exhibition space and four break-out rooms.
Global Marketing Solutions director Nicola Chater, who works with Italian destination management company EIS, says: "Palazzo del Congressi di Stresa is unique due to its beautiful, tranquil setting. It's surrounded by many three-, fourand five-star hotels that can easily accommodate up to 800 delegates for a conference."
- Zappeion Conference & Exhibition Hall, Athens
Ideal for groups wanting to meet in a historic setting, the Zappeion Conference and Exhibition Hall is located in the historic centre of Athens. Within walking distance of the Acropolis and the Panathenaic Stadium - venue for the 1896 Olympic Games - the Zappeion is surrounded by 50 acres of gardens with meandering paths, fountains and more than 70 neoclassical sculptures. An extensive renovation in 2006 restored the building to its original splendour and added state-of-the-art technology.
The site offers 4,000m2 of exhibitions and meeting space, including a central atrium that can be used for conferences, concerts, cocktail parties and sit-down dinners for 350 guests. An additional 200 delegates can be seated under the portico and there are also two interior open courtyards. Zappeion can comfortably host 1,500 guests for receptions.
- Malta Fairs & Conventions Centre
MFCC is the island's largest international conference venue and offers a 7,000m2 blank canvas space located in Ta'Qali. The venue is just three years old and can host everything from major conferences and gala dinners to concerts for 10,000 people, motor exhibitions, fashion shows and art installations. Its spacious, high-ceilinged hall can hold 2,500 tiered seats, 7,500 flat seats or 20,000 standing. "MFCC has a range of in-house or locally available support services to make staging an event at the venue in Malta easy and cost effective," says venue marketing manager Nadette Bugeja. "If organisers wish to bring in their own preferred suppliers, our staff will do everything to support them."
CI Events general manager UK Penny Lion adds: "It's an amazing venue, which would work very well for larger events."
- Nice Acropolis, Cote D'Azur, France
Nestled in the heart of downtown Nice, just 15 minutes from the airport, the Acropolis Convention and Exhibition complex offers five auditoria with 250 to 2,500 seats, 50 meeting rooms with 20 to 800 seats and a 26,000m2 exhibition hall. The complex was taken over by GL Events in 2007 and facilities are undergoing a full refurbishment programme, which began this year.
The Nice Acropolis includes the Acropolis Exhibition Centre, built in 1954, and the Acropolis Convention Centre, added in 1984 and designed by architects Buzzi, Bernasconi and Baptiste. It features gardens, fountains and numerous works of art on exhibit outside the building. The ISO 9001-certified convention and exhibition centre has hosted more than 3,000 events with 7 million people passing through its doors.
- Kursaal Conference Centre, San Sebastian, Spain
Set in the heart of the city, the Kursaal won the Mies van der Rohe Award for the best building in Europe in 2001 and is widely acclaimed for its avant-garde architecture.
The two auditoria can seat 1,806 and 624 people respectively, and there are more than 20 meeting rooms capable of seating ten to 575 delegates. As well as the building's unique design, it also boasts more than 5,000m2 of open-air terraces with views over La Zurriola Beach and the River Urumea estuary. The centre's banqueting hall can accommodate 1,000 seated delegates or almost 2,000 for standing receptions.
SPOTLIGHT ... Iceland National Concert & Convention Centre
The Icelandic National Concert & Conference Centre was one of the early victims of the global recession when work ceased on the Reykjavik harbour venue in October 2008.
Last year however, the Icelandic government and the city council came to the 28,000m2 project's rescue and work restarted on the building in April 2009. The centre is expected to open in May 2011 - two years late.
Iceland Convention and Incentive Bureau project manager Anna Valdimarsdottir is pleased with the progress. "We are finally seeing the glass dome take shape and there is just a further nine months of work to be carried out," she says. "Some events had to be relocated, but many clients have rebooked for 2011 and the venue is reportedly taking bookings throughout 2014 and 2015 as well. During 2008, Iceland was understandably mistrusted as an incentive and events destination. Organisers were worried hotels wouldn't be built and our economy was too unstable. We are experiencing a recovery and I'm pleased to say we've turned things around."
On 15 December, the Icelandic National Concert & Conference Centre was formally christened Harpa, because of its resemblance to the shape of a harp and after the month in the old Norse calendar that signals the start of summer.
Portus Group, the company behind the project, has recruited a director of marketing and is designing branding. Harpa will comprise a main auditorium for 1,800, a conference hall for 750 delegates and two break-out halls that will seat 60 delegates. A hotel is planned for 2014 and Portus Group is looking for an international chain and investors.
Have you registered with us yet?
Register now to enjoy more articles
and free email bulletins.
Register now
Already registered?
Sign in