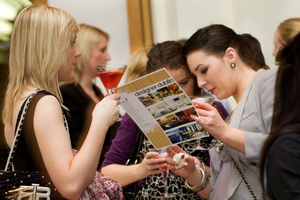 The programme is a partnership between three of Dublin's boutique hotels, including the Morgan, the Morrison and the Clarence, and Ovation Global DMC. It is designed to showcase contemporary aspects of the city to meeting planners with a view to "avoiding the usual tourist clichés".

The group will work alongside corporates and associations to create bespoke events themed around Ireland's fashion and arts heritage. "Having endured so much gloom in the economic downturn, these programmes will showcase the artistic and cultural forces of the city that put it in contention with the likes of Paris and Berlin," said Designer Dublin marketing assistant Rachael Addley.

Designer Dublin will offer a range of individual programmes tailored to different groups. The Iconic Ireland programme includes visits to particular scenes of Irish literature including the U2 Wall, the birthplace of James Joyce and Samuel Beckett. Other options include Fashion Fix, which features visits to the Guinness Storehouse and a cook-along with celebrity chef Richie Wilson, and Antique Chic, which features a themed team-building initiative and gala dinner.

Speaking at the launch last night, Ovation managing director Padraic Gilligan said: "Designer Dublin seeks to promote the presence of Dublin as a legitimate contender not only in the fashion world, but also in the areas of architectural development, the music world and popular arts. It combines Ovation Ireland's years of experience and intimate knowledge of the venues and locations with the high-end accommodation and services of the Clarence, the Morgan and the Morrison."
Have you registered with us yet?
Register now to enjoy more articles
and free email bulletins.
Register now
Already registered?
Sign in