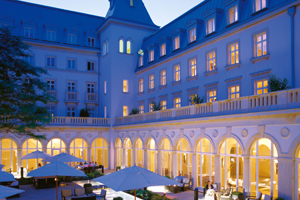 Client: JSP Manufacturers
Event: ARPRO Adventure 2009
Agency: In house
Group size: 120
Date: 22-23 October 2009
Venue: Villa Kennedy, Frankfurt
Budget: Undisclosed
The brief: Each year, JSP, a leading plastic manufacturer and supplier to the car industry, hosts a two-day meeting for 120 delegates that include car companies, corporate suppliers and manufacturers.
The event, which includes an awards programme, is designed for JSP to launch new products and foster networking between guests that include Peugeot, Citroen and Johnson & Johnson.
JSP wanted a high-end European venue that was accessible for delegates from across Europe and was easily reached from the airport. "We didn't want something unnecessarily ostentatious, nor did we want it to feel like just another generic meeting venue," explains JSP marketing and communications manager Gary Carr.
Challenges: Frankfurt's Rocco Forte Villa Kennedy was selected for the event, but the hotel's main ballroom, the Konrad Adenauer, posed a problem. "It was nicely decorated but had two large murals on the wall that we felt didn't sit with the tone of the event," recalls Carr. The company also wanted to showcase a vehicle in the hotel's courtyard, but getting it there required driving through a narrow set of double doors.
Solution: The issue of the murals was addressed through the set-up of the room.
A stage was erected and black curtains were draped over the murals to act as a backdrop. "This worked well as it felt like the natural background to the stage, instead of a conspicuous cover-up job," explains Carr.
With assurance from Villa Kennedy that the car would fit through the doors, JSP pulled in its wing-mirrors and drove it through extremely slowly. Nerves were tested and Carr concedes "there were a few people sucking their teeth" throughout the process.
Execution: Delegates arrived on the Thursday evening, where they received branded key cards with an agenda. After a drinks reception, they filed into the ballroom to the tune of Mission Impossible (the theme of the event).
Dinner was held ahead of speeches and an awards ceremony. The table plan was designed so that guests had to change seats between courses. The next day included more formal presentations, with a motivational speech from Steve Cunningham, captain of the England Blind Football team. The event finished at 4pm, allowing time for delegates to catch flights home.
Verdict: Overall, Carr was impressed, not just with the venue itself, but the level of service offered by hotel staff. "Companies that choose not to use an event agency are more dependent on outstanding service from the suppliers they select," he says. "No stone was left unturned."
Have you registered with us yet?
Register now to enjoy more articles
and free email bulletins.
Register now
Already registered?
Sign in