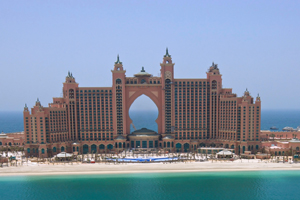 European countries suffered the biggest falls in conference and incentive business in 2009, according to a C&IT survey of ten top destinations. Currency shifts and corporate budget cuts were cited as the most common causes but more than half of respondents expect C&I to improve in 2010
Dubai
Performance: Business levels are continuing to rise, according to Dubai Convention Bureau (DCB) director Jerad Bachar.
"Enquiries tracked by the DCB for this market increased by 62% from 2008," he says. "One of the primary factors is the increased flexibility of hotel rates and availability of shortand long-term C&I bookings."
Rivals: Vienna, Barcelona, Singapore, San Diego, Vancouver and Asian destinations.
2010 Outlook: "We have strong bookings already in place for the year and we expect short-term bookings to continue. Client confidence seems to be gaining strength, which is reassuring, but further long-term confidence is needed," says Bachar, who says the DCB will maintain its focus on the UK market.
France
Performance: "Although we have seen the number of meetings organised in France in 2009 fall due to the economic downturn, it is uneven between regions and markets," says Veruschka Becquart, head of the French Convention Bureau in the UK. The depreciation of the pound has also heightened misconceptions of France as an expensive destination, she adds.
Rivals: The UK, Spain, Germany, Croatia, Portugal, Bulgaria and Poland.
2010 Outlook: "We expect the industry to continue fluctuating, but to a lesser extent in 2010," says Becquart.
"We are currently witnessing a return towards short-haul destinations. Therefore, we are optimistic about 2010 but we will have to wait until 2011 for a real improvement." The bureau also plans to target the association sector.
Germany
Performance: German Convention Bureau managing director Lutz Vogt says: "The association meetings market remained the same as 2008. However, the number, length and size of corporate meetings went down because companies are focused on saving money." He cites tight pharmaceutical regulations as a cause, while the high value of the euro inhibited visitors from the US.
Rivals: Spain.
2010 Outlook: "It will remain very difficult," says Vogt. "We may have reached rock bottom by the start of 2010 and could see things pick up midway through the year. But we must be realistic rather than optimistic. In 2010, we will aim to promote Germany's value for money, professionalism and infrastructure."
Hong Kong
Performance: The first six months of 2009 saw C&I visitor arrivals hit about 510,000, which was 1.9% more than the same period in 2008. Simon Mills, Northern Europe director for Meetings and Exhibitions Hong Kong, says delegate numbers rose at "Asia's C&I hub" thanks to its geographical links.
Rivals: Singapore, Malaysia, Macau, Dubai, Cape Town and Las Vegas.
2010 Outlook: Hong Kong is taking a proactive approach. Its recently launched microsite, HK Motivates, which showcases incentive options such as Chinese New Year and racing, has already prompted "a good number of enquiries".
To attract more business, Hong Kong will target the pharmaceutical sector, says Mills, and markets in China, India, Korea, Japan, the UK and the US.
Ireland
Performance: "The incentive sector has definitely been hit, especially the US market," says Tourism Ireland head of business and sport tourism David Boyce. "The level of business is down and is likely to remain down for a while. The main factor affecting business this year was corporates cutting back their travel budgets."
Rivals: Scotland.
2010 Outlook: The opening of the Aviva Stadium and the Convention Centre Dublin carry high hopes of an increase in C&I business. "The centre already has 29 conferences booked for 2010 and beyond," says Boyce.
Ireland's incentive facilities, plus the CSR benefits of being close to the UK, will also be key, he adds.
Italy
Performance: Business travel to Italy in 2009 fell 23% compared with 2008, according to research published by the Bruno Leoni Institute. Italian State Tourist Board director Valerio Scoyni says the recession, coupled with the weakening of sterling against the euro, forced event buyers to switch to video-conferencing technology.
Rivals: France, Spain, Cyprus and Portugal.
2010 Outlook: "I am confident that the global economy will begin to recover, although I foresee a consolidation in tourism flows and the tourism market in general," says Scoyni, who plans to again target British buyers with a workshop similar to one it ran in September.
Netherlands
Performance: "In the first five months of the year, the number of business overnights was 9% lower than in the same period in the previous year," says Birgit Lindken, UK & Ireland business-to-business marketing manager at the Netherlands Board of Tourism and Conventions. "The euro is expensive for the US and UK, and these are important markets for the Netherlands. Also, during the first half of the year, the vliegtax (flight tax) meant fewer flight connections."
Rivals: The US, UK, Spain and Eastern Europe.
2010 Outlook: "For the British market, we are expecting a further drop of around 14%," says Lindken. "The recession has had a huge impact on the travel plans of the British."
South Africa
Performance: "While the C&I sector has been showing steady growth over the past few years, we have experienced a slowing down of corporate meetings," says Nomasonto Ndlovu, global manager of business tourism at South Africa Tourism. Corporate budget cuts have also taken their toll, says Ndlovu, but the effect has been negated by the increase in bookings from the association sector and the increasing interest in holding events around the 2010 Fifa World Cup.
Rivals: China, Thailand and Dubai.
2010 Outlook: South Africa, which is 34th in the ICCA rankings, is aiming for a place in the top 20 next year. The key to achieving this will be bidding for more association business, says Ndlovu. The World Cup is also expected to deliver a significant boost to the sector.
Spain
Performance: C&I numbers were similar to 2008 but events were smaller scale, says Spanish Tourist Office incentives and congresses executive Valentina Beteta. "What has happened in Spain, as with everywhere, reflects the credit crunch. The euro has been a problem, along with the corporates' austerity image."
Rivals: Turkey, Greece, Malta and Portugal.
2010 Outlook: Reports from hoteliers and DMCs suggest optimism for C&I growth in Spain. "What I'm hearing is that corporates have now organised their accounts and are planning their spending for next year," says Beteta. In terms of attracting business, the Spanish Tourist Office's January conference in Madrid will be key.
UK
Performance: Business visits to the UK in the first nine months of 2009 were 23% down on the same period in 2008, according to data compiled by Visit Britain. "Incentives remain the most challenging area due to budget cuts in corporate travel," says Visit Britain acting head of business visits and events Nathan Alemany.
Rivals: France and Germany.
2010 Outlook: An overall increase in visitor numbers of just less than 1% is predicted for 2010. To attract C&I business, Visit Britain will highlight discount offers, favourable exchange rates, low travel costs and VAT benefits. In addition, domestic C&I business is expected to benefit from buyers using UK venues rather than going overseas.
Have you registered with us yet?
Register now to enjoy more articles
and free email bulletins.
Register now
Already registered?
Sign in