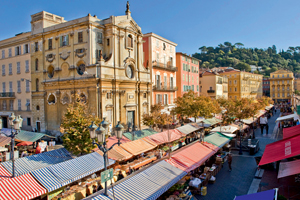 - Alan Newton, group supplier relations manager, Grass Roots
Digging out my sunglasses on arrival in Nice was particularly satisfying, having departed a wet and windy London. Within an hour of landing, we were relaxing at our hotel and enjoying the sunset - not a bad way to unwind on a Friday evening. Local restaurant La Petite Maison is clearly a hidden gem judging by the queue we smugly strolled past. The local elite enjoy traditional regional cuisine accompanied by a five-piece band, who enthusiastically weave from table to table. A highlight of our trip was a visit to the Fragonard perfume factory but, for me, the piece de resistance was a spin in a Ferrari, organised by agency Liven Up, around the tight twists and turns of the Cote d'Azur's mountainous terrain.
- Abigail Sherratt, Pricewaterhouse Coopers learning and development executive, PWC Meeting Services
We're having a great time and Starwood are really looking after us. Our rooms at Le Meridien Nice have their own balconies - ideal for enjoying breakfast overlooking the Promenade des Anglais and Cote d'Azur. Last night's meal was a highlight - we ate at a cosy little restaurant called La Petite Maison. The food was great and then this five-piece band arrived with a double bass. It was very cramped, but the atmosphere was fantastic and everyone was singing along.
- Louisa Ritchie, account director, Zibrant
In the South of France this weekend for some sunshine, glamour and relaxation. Staying at Le Meridien Nice with its fantastic rooms and views over the Med. Breakfast on your balcony is a must. Lunch at the Michelin-starred Chateau Eza, enjoying the fruit and flower markets, watching ice cream being made and a boat trip - so much to do and so little time. Next time I come we'll hit the slopes in the Alps in the morning before heading to the beach in the afternoon. What more can you ask from a destination for either business or pleasure?
- Louise Lowe, head of sales, Conference Care
This weekend in the Cote d'Azur has really put the region on the map for me as an event destination. It's less than two hours from London and we've been lucky with the weather. Our day in Eze was great - the mountainous climb to the lunch venue, Chateau Eza, was worth it as the food was amazing and the views stunning. And I loved our trip to the Fragonard perfume factory to make our own perfume, although mine was pretty awful! We also spent a morning exploring the boutiques of St Paul de Vence.
- Sally Richmond, manager, UK & International venue-finding team, Banks Sadler
It would have been lovely to have spent more time exploring Nice. Monaco and Cannes are just a short drive away but the old part of Nice and the markets are lovely and there is so much to see. We took a stroll along the Promenade des Anglais before dinner at La Petite Maison, which was a really great opportunity for the group to get to know each other. Le Meridien Nice is centrally located and just 15 minutes from the airport, so really handy. Before leaving the Riviera we had a leisurely lunch at Cafe Llorca at the hotel Le Clos des Arts near St Paul de Vence.
Have you registered with us yet?
Register now to enjoy more articles
and free email bulletins.
Register now
Already registered?
Sign in