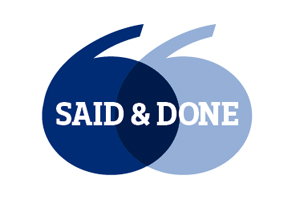 "You're young, you're slim and you grew up in a world full of opportunities - we hate you!" University of Westminster's Rob Davidson puts 'Generation Y' at ease during his session at EIBTM
"If you kick a dog in the arse, it will do what you want, but it will never love you in the same way again" COI events head Simon Hughes gets all philosophical on our ass
"Don't squeeze those balls too hard!" The magician entertaining at the C&IT Association Forum dinner encounters an enthusiastic delegate
"Why are you drinking water when you could be drinking Champagne?" Ladies on the Atlantis, The Palm fam trip are wooed by the locals splashing their cash at the resort's club
"At least I won't have to go to fat camp this summer - I sweated off two stone in my first three meetings" One buyer comments on the lack of air-conditioning on the first day of Imex
"With the benefit of hindsight, I would have asked Michael Jackson to have a Bupa healthcheck - and that applies to all other aging artists with a taste for prescription drugs that I work with in the future..." AOK Events' Alex Hewitt on the demise of MJ and his corporate hospitality programme
"I went to a JCB launch where there were dancing girls all over the vehicle and the JCB bloke complained that no-one was looking at the bloody JCB" One agency head illustrates how eye-popping entertainment at a product launch isn't always that hot
"I have a habit of pulling moonies when I'm drunk" One delegate takes the EC Collective fam trip's challenge of wacky photos a step too far
"I hate to have to tell you this but my stomach is griping terribly" - One fam-tripper succumbs to the dreaded Cairo belly during an educational trip to Egypt.
"My predictions for 2010? England will lose in the quarter-finals" - Motivcom's Nigel Cooper strays off topic when asked for his UK industry forecast
Have you registered with us yet?
Register now to enjoy more articles
and free email bulletins.
Register now
Already registered?
Sign in