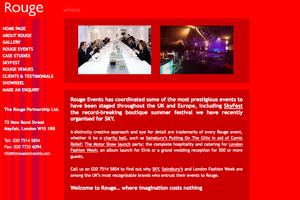 Rouge Live will be headed by the agency's co-founder and director of operations, Nick Wright.
The launch comes after Rouge was confirmed as hospitality and catering partner for the Peter Pan show at London's O2, having already worked on the summer production at Kensington Gardens.
Rouge's 20-strong team, led by operations manager Phil Cowley, are managing catering and hospitality for private and corporate groups throughout the show's six-week run.
Rouge business development manager Mark White said: "This Christmas, very showy, big-budget hospitality is perhaps our of fashion for fear of a backlash. But as general confidence in the economy seems to pick up, those corporates who do have budgets seem to feel more confident and interest from corporate groups has been higher than we expected."
The agency is also finalising an agreement to work on a series of undisclosed live events in spring and summer next year. Wright said sponsorship manager James Needham was negotiating with a number of leading brands over the events, which he said would attract between 7,500 and 15,000 people.
White added: "Rouge has been involved in the live events and hospitality sector since 2002, when the agency delivered catering and hospitality for the first of ten consecutive seasons at London Fashion Week during its tenure at the Natural History Museum. Contrary to industry trends, this side of the business has continued to expand in 2009."
Have you registered with us yet?
Register now to enjoy more articles
and free email bulletins.
Register now
Already registered?
Sign in