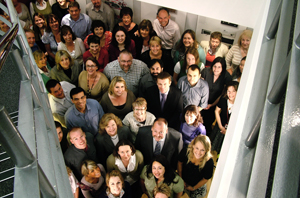 Q3/Q4 performance: The third quarter is historically quiet, says Grass Roots Eventcom managing director Nick Bender. "It covers the school holidays so large events are rare and we budget accordingly," he says. "The final quarter is better but tends to be light due to Christmas." The agency is on track to achieve its budgeted growth. "We're starting to see clients providing budgets but we're cautious about the perception of spending, particularly in recognition."
Staffing: There are plans to recruit if business grows but overall headcount will remain the same as this year due to natural attrition. "We will probably add staff to the Pfizer team and will keep investing in new talent," says Bender. "We'll encourage employees to move into overseas opportunities."
Recent wins and highlights: HBI, MMM, DMS and Maritz were brought under the Grass Roots banner last year and Bender says the successful rebrand is a highlight. Others include the delivery of a global recognition event for Shell despite the swine flu scare, and an event for Swift in Hong Kong during a typhoon. Grass Roots' biggest win is the Pfizer international European congress account.
Business plans for 2010: Grass Roots will expand its overseas presence. It plans to increase business volumes in existing European and Dubai offices and establish offices in New York and the Asia-Pacific region. It will also focus on growing its delegate-management, venue-sourcing, meetings consolidation and standalone communications products and services. "We'll continue to be strong in the pharmaceutical, automotive and financial services sectors and grow work with telecoms, FMCG and professional services clients," says Bender. It will also work with clients planning 2012 Olympics-based events.
Industry outlook: Bender says the first half of 2010 will see "cautious recovery" and in the second he anticipates an increase of work flowing into the industry. "Companies are starting to regain confidence to go back to events but they've had the opportunity to revisit the style and cost," he says.
Read Jack Morton's views on 2010 and beyond here
Read World Events' views on 2010 and beyond here
Read TRO's views on 2010 and beyond here
Read P&MM's views on 2010 and beyond here
Have you registered with us yet?
Register now to enjoy more articles
and free email bulletins.
Register now
Already registered?
Sign in