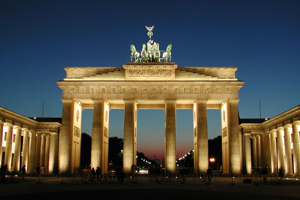 Berlin's celebrations include the tipping of 1,000 foam dominoes along the route of the wall and a gathering at the Brandenburg Gate tonight of world leaders including Angela Merkel, Gordon Brown, Hilary Clinton, Nicolas Sarkozy and Dimitry Medvedev.
The guests will be treated to music, fireworks and dancing, in a show reputed to be costing £7m.
The centrepiece of the Festival of Freedom will be a performance by former eastern and western orchestras and choirs, while Daniel Barenboim conducts an open-air concert by the Staatskapelle.
Thousands of visitors have arrived in Berlin for the commemorations, capping a year in which Berlin is said to have attracted more tourists than Rome, and held 30,850 events in the first six months for 3.97 million visitors.
Have you registered with us yet?
Register now to enjoy more articles
and free email bulletins.
Register now
Already registered?
Sign in