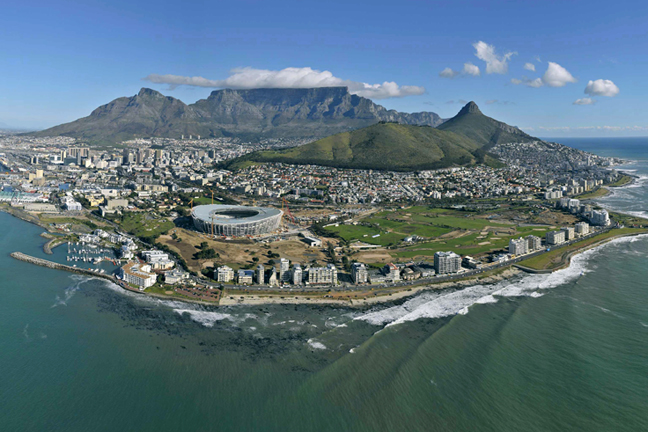 MIKE WALLER, CHIEF EXECUTIVE, DRAGONFLY AFRICA
What accommodation options are available?
We suggest that groups wanting to take in a few games should consider basing themselves in Cape Town, as there is more accommodation there than in Johannesburg where the best hotels have already been taken by Fifa and sponsors. Nelspruit is worth considering as it is located near Kruger National Park, or Port Elizabeth for the Wine Route. We have space reserved in some lodges such as Singita and Sabi Sabi, which would suit smaller groups.
How would you alleviate concerns about safety?
We would put UK clients in touch with a corporate or agency in the UK who have been to South Africa before to hear it from the horse's mouth. In the many years we've been running incentives we've never had an issue.
Top tips for event planners considering events?
Groups should consider the last 16 and quarter-final matches, as tickets for the first round of group games are highly sought after. At this stage, it's probably better to consider smaller groups. Also, there are some fantastic new stadia being built, so incorporate a game at one of those. If you plan to extend your trip, consider areas such as Botswana, Mozambique or Victoria Falls, as these regions have not inflated their rates.
Are you offering any special deals?
We are offering a deal to Victoria Falls packaged with flights for groups that want to head there for one to three nights after a game. We are also offering accommodation in three to four night blocks for groups that want to take in a game or two, and can combine this with a game lodge.
KERRY RAFFRAY, MANAGING DIRECTOR, GREEN ROUTE
Is safety an issue?
In the past few months, safety has only been mentioned by one client, although I have to say I expected it to come up more. It depends on where groups stay. I think the primary concern is Johannesburg, but you stay away from the no-go areas and keep together as a group. The majority of crime takes place in cars, and groups will be travelling in coaches and larger vehicles
What transport options are available?
There is a shortage of transportation options, but Mango Airlines is only releasing its schedules for that period in November and it has said it is planning on operating a round-the-clock scheduled service of internal flights. However, lots of clients will want to charter their own, and these will need to booked as soon as possible.
Top tips for incentive planners?
A lot of groups might not have considered looking at regional destinations such as Victoria Falls and Mozambique - it's possible to stay there, and then travel in to watch a game. After the draw in December, it is possible that we'll see a movement in the inventory and some accommodation might be released. You need to decide if you can risk playing the waiting game or confirm something now.
Are you offering any World Cup packages?
We are setting up luxury, tented camps in Kruger for the duration of group matches, one in the north for the Polokwane games and one in the south for Nelspruit. We're not really offering packages as such, but dealing with bespoke enquiries from clients.
Have you registered with us yet?
Register now to enjoy more articles
and free email bulletins.
Register now
Already registered?
Sign in