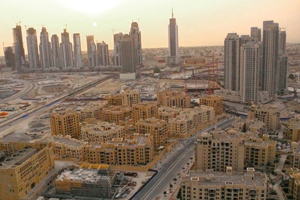 TRAFFIC
THEN: (2008) When C&IT visited Dubai last year, buyers expressed concerns about the stifling traffic that clogged roads, making it difficult to get around the city. One buyer described it as "off-putting", particularly for tightly timed itineraries.
NOW: The first stage of the Dubai Metro known as the Red Line has recently opened. It starts at Dubai's refurbished international airport, tunnels underneath Dubai Creek and follows the coast to Jebel Ali. When fully completed next year, it will travel along Sheikh Zayed Road and be one of the largest urban automated rail services in the world.
VERDICT: The first part of this development has opened on time. Early signs suggest that the traffic has eased.
CONSTRUCTION
THEN: Construction was at its peak and Dubai had a notorious reputation as the "skyline of cranes". Nearly half of the buyers surveyed said that their first impressions were of "construction and building sites".
NOW: The construction sector has been damaged by the downturn, and is reported to have remained flat throughout the first six months of 2009, resulting in a number of abandoned projects that have not helped perceptions. One buyer who revisited the emirate recently said it felt like "returning to a ghost town".
VERDICT: Readjusting to the economic climate is likely to take a couple of years and derelict building sites may not clear any time soon. But the emirate is determined to push on with its existing ventures such as The World islands and Dubailand with new timescales in light of the downturn. "Change is the essence of life and Dubai firmly believes in changing for better," says Dubai Convention Bureau head of marketing Natasha Tome.
EXTRAVAGANCE AND EXPENSE
THEN: Even before the perception issue, there had been unease about the impressions that the region generated among corporates. One buyer saw it as "a rich man's playground, associated with extravagance". Much of this was driven by the expense of the four- and five-star hotel sector, described by some as "extortionate".
NOW: The end of cheap credit and the booming economy have tempered the luxury market and prices have dropped. While glamorous hotels still exist for those in search of them, there is a new range of cheaper options coming to the fore. Tome asserts that many of the high-end hotels have "reviewed their service rates in tune with the changing business landscape".
VERDICT: This has not gone unnoticed. All buyers that C&IT spoke to this year commented on just how eager hotels are to negotiate. "The change is uncanny," said one agency buyer. "Dubai hoteliers are more willing to meet prices than I can ever remember."
ECOLOGY
THEN: When C&IT visited last year, buyers were hard pressed to find a single convincing environmental credential. Yet the emirate's marketing body seemed unconcerned, even mooting nuclear energy in future.
NOW: The change over the past year has been radical. Hotel chains are incorporating sustainability into their business plans. Ecos Dubailand, an eco-friendly hotel brand, announced it would open 234 rooms in the new Dubailand complex. With the city making inroads into the golf market, the 18-hole championship course at the Four Seasons Golf Club in Dubai Festival City is one of several that make use of the salt-tolerant Paspalum grass. The £34bn Mohammed bin Rashid Gardens - which promises parks, canals, ponds and green spaces - has been tentatively welcomed by the World Wildlife Fund.
VERDICT: Dubai is always going to come under fire for what one agency buyer describes as "its status as an air-conditioned city in the middle of a desert". But there is no doubt that things are heading in the right direction and that these advances are the start of a more compelling pitch to environmentally conscious clients.
DIRECTORY DUBAI: Dubai Tourism & Commerce Marketing
Tel: 020 7321 6110
Email: dtcm_uk@dubaitourism.ae
Web: www.dubaitourism.ae
Have you registered with us yet?
Register now to enjoy more articles
and free email bulletins.
Register now
Already registered?
Sign in