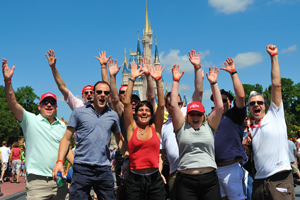 FACTFILE
Client: Iceland
Event: Annual conference and incentive
Group size: 830
Agency: Cascade Productions
Date: 27 September - 1 October 2009
Venue: Walt Disney World Resort Florida
Budget: £4m
THE CLIENT PERSPECTIVE
Background: Frozen food retailer Iceland has undergone a transformation over the past four years. The retailer was founded by chief executive Malcolm Walker in 1970, but in 2000, Walker and his directors left and the business plunged into a £120m loss. Walker and his board returned to Iceland in 2005. Having rescued the business from collapse, he has since delivered double digit like-for-like sales growth for the past four years.
In 2006, Walker held a store managers' conference in Birmingham to explain how he wanted to take the company back to basics. The following year the annual event was held at Disneyland Resort Paris, then in Liverpool a year later. In 2008, Walker promised his managers that if they hit their sales targets, the 2009 conference would be held at Walt Disney World Resort in Florida.
Objectives: Taking 830 store managers to Florida was, according to Walker, to reward them for four years of hard work and to motivate and inspire them to make the next four years even better. "Disney World was chosen because of its world-class customer service," he says. "I'd explained to managers that Disney's attention to detail is paramount and defied them to find a flower that was past its best or a lightbulb that needed changing."
Walker hoped some of this "Disney magic" would rub off on his managers. With competition increasing from Tesco and Asda, he believes customer service is the key to Iceland's continued growth. "We exposed our staff to world-class customer service," he says. "If just ten per cent of it transfers back home, it will be worth every penny."
Results: Defending the £4m budget, Walker says: "If anyone questions our investment, the reaction of our staff should justify everything. It may be intangible, but I just know it has been worth it. Cascade Productions really pulled out all the stops and everything ran very smoothly. I just left them to get on with it and everything worked well. Just like Disney, it's the small things they do that you don't necessarily notice. For example, everywhere we went there was a red carpet down for us."
Walker sent his managers home with the news that all shopfloor staff would receive an above-average five per cent pay increase for the next year. He concludes: "I wish I could have brought all my 19,000 staff to Florida but I couldn't so hopefully the managers are now motivated for the key Christmas period and they will pass that excitement onto staff. Plus, the pay increase will help."
THE AGENCY SOLUTION
Challenges: Alan Wight, managing director of Manchester-based Cascade Productions managed the four-day trip. "The biggest challenge was designing a programme in the least number of days so delegates could feasibly experience everything," he says. "This was a mixed group, some of whom some had never flown, or ventured out of the country or weren't frequent travellers, so we decided to hand-hold them every step of the way."
Execution: Delegates arrived on Sunday afternoon and were treated to a Welcome Beach Party featuring a duelling piano act and a firework display. "The resort predicted an 80 per cent chance of rain so advised us to take the reception indoors," says Wight. "We took a risk and got away with it. We even launched the fireworks off the 12th floor of the hotel."
Early the next morning, Iceland launched its Christmas range to staff during the first conference session. Delegates were then escorted to the Magic Kingdom, where they received behind-the-scenes tours and were set the task of finding examples of great Disney customer service. "Delegates sought out Disney protocol such as trash cans placed 27 paces apart because they've researched that that's the length of time a person will hold onto their rubbish before dropping it," says Wight.
That evening, managers were treated to a private performance of the Lion King at Animal Kingdom. Two rides were open all evening exclusively for the group.
The next day, delegates set off on one of their chosen excursions to Universal Studios, Sea World, Kennedy Space Centre, Wildlife tour, or any of the Disney theme parks. In the evening, delegates were taken to Citywalk, part of Universal Studios, for an informal dinner before being left to enjoy the bars and clubs.
The following day, store managers again ventured off on an excursion or relaxed before returning to the hotel to prepare for a Party in the Clouds-themed gala dinner. "We wanted guests to feel part of the theme so we asked them to dress in all-white," says Wight. "Some 830 store managers formed an all-white procession to Epcot with the chief executive at the front. After dinner we had a band, an exclusive area to watch the fireworks and private access to theme-park rides."
On the final day, Iceland's Walker launched the Christmas in-store 'Win a Car' incentive during the second conference session. "We produced a reveal using a Hummer as a joke, but the real prize is a BMW," confesses Wight. "It was a phenomenal event and I don't think Iceland will try to top it next year. The 2010 conference will probably be in the UK but it will continue to be different."
TIMELINE
The countdown to Disney World event
October 2008: Iceland chief executive Malcolm Walker promises store managers at the annual conference in Liverpool that he'll take them to Walt Disney World Resort Florida in 2009.
November 2008: Cascade Productions carries out the first site visit at Disney World Florida and earmarks the Swan and Dolphin hotel for the conferences and accommodation.
March 2009: Iceland store managers receive an empty ring binder in a Disney-branded presentation box. Over the next six months, delegates receive information sheets relating to the event to put in their folders.
April 2009: Iceland store managers receive a DVD featuring eight excursions that are available to choose from during their trip.
27 September 2009: 830 store managers fly to Florida from Manchester and Gatwick using six different flights. The four-day event comprises two conference sessions, exclusive theme-park access, behind-the-scenes tours, leisure time, excursions and a gala dinner.
1 October 2009: Store managers fly home with a mission to motivate staff having learned about Iceland's Christmas in-store campaign and a store incentive to win a BMW.
Have you registered with us yet?
Register now to enjoy more articles
and free email bulletins.
Register now
Already registered?
Sign in