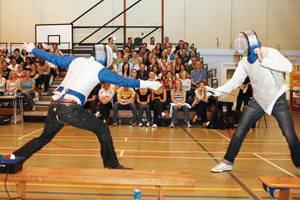 FACTFILE
Client: Coca-Cola
Event: Team day
Group size: 120
Agency: Altyerre
Date: 18 June 2009
Venues: Octagon, Queen Mary, University College London, Forman's Fish
Island and Newham Leisure Centre
Budget: Undisclosed
The brief: Coca-Cola GB holds an annual team day for the 120 executives based at its headquarters in Hammersmith, London. Event agency Altyerre had previously organised the 2008 event, which involved working with a community carnival group in Notting Hill. The brief for 2009 was to make a difference, have fun together and motivate the team. Altyerre proposed an inspirational event in the heart of East London, to tie in with Coca-Cola's long-standing sponsorship of the Olympics, providing a unique insight into the legacy of the 2012 Games.
Challenges: Altyerre worked closely with the Olympic host borough councils, Tower Hamlets and Newham and a number of other experts, from the Olympic Development Authority (ODA) and other sporting institutions. "We had around 25 different experts participating in the event with very different and personal motivations, and one of the challenges was co-ordinating them to deliver an event that met Coca-Cola's objectives," says Altyerre director Alex Shephard. "We also had to make sure that we were able to deliver something that was as beneficial for these stakeholders as it was for Coca-Cola."
Solution: Shephard says that in the first instance, it was a case of finding the right people to get involved with the event. "We started with the councils and they helped put us in touch with local experts, then it was a case of maintaining close contact and aligning objectives so that all parties would benefit," she says.
Altyerre put together a programme with plenty of time for interaction and feedback to enable both councils to benefit from the expertise and skills of the Coca-Cola GB staff, including helping Tower Hamlets in the development of a visitor strategy for 2012 and beyond, and Newham Council with its sports participation objectives.
Execution: The 120 Coca-Cola executives arrived at the Octagon venue at Queen Mary, University of London at 8.45am for a 9am start. The theme for the morning session was regeneration, and Nick Smales, head of Tower Hamlets Council 2012 Olympic and Paralympics, asked the Coca-Cola team to help develop a visitor strategy by immersing themselves in the local area and giving insight into what is special about it.
Delegates were split into groups, given maps and asked to spend the next two hours discovering 'High Street 2012', the stretch between Bow and Brick Lane, which will be the final four miles of the marathon route in the London Olympic Games. They then collated their thoughts and reported back to Smales and several of his colleagues from Tower Hamlets Council.
The delegates then had a packed lunch en route to Forman's Fish Island, which bills itself as the closest venue to the London 2012 Olympic Stadium. The Olympic Development's Authority head of external relations, Julie King, then gave a presentation about the Olympic Park and plans for the park afterwards.
Following this, the group headed by coach to their last venue for the day, Newham Leisure Centre, where they were split into teams for four sessions. These included a talk from Tessa Sanderson - 'Establishing an Olympic Mindset' - about Newham Sports Academy, which she heads up, and its aims to develop a new generation of athletes from the borough of Newham.
Two of the sessions were organised by Newham Swords, a fencing club set up by two former Olympic fencing champions, with the aim of introducing the sport to the local community. One session involved learning fencing footwork, and the art of co-ordinating hands, eyes and feet. Coca-Cola executives then got to try their hand at fencing in another session.
The final session was dedicated to a workshop drawing on the skills on the marketing and business expertise of Coca-Cola executives to help Newham Swords market itself to local schools and the community, tying back in with Newham Council's sports participation objective.
Delegates were asked to fill in questionnaires, and the information was collated and passed back to Newham Swords. The four top fencers among the delegates then had a fence-off and the winner was pitted against the under-15 champion. The group then headed over to Vibe Bar on Brick Lane, where an area was reserved for drinks and a barbecue to round off the day.
Verdict: The event received a 98 per cent high approval rating from the 120 delegates. It has also led to an ongoing partnership development between Coca-Cola GB and the Olympic host borough councils, Tower Hamlets and Newham. Lynne Stelling, personal assistant to president, Coca-Cola GB&I, says: "Altyerre came up with a creative solution that was an incredible success, with our best results and feedback for any event to date."
Have you registered with us yet?
Register now to enjoy more articles
and free email bulletins.
Register now
Already registered?
Sign in