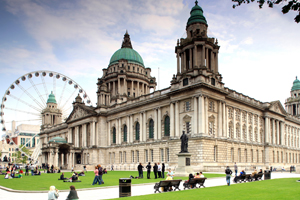 The renaissance of Belfast as a conference destination is being fuelled by an increase in hotel rooms, venue upgrades and city-wide regeneration. Belfast already has a world-class convention centre in the form of the Waterfront, which opened in 1997 and can host 2,223 delegates in its main auditorium.
In October, Belfast's rejuvenated Ulster Museum reopened after a £17m facelift to coincide with the 80th anniversary of the opening of the original museum. Guests now enter via a new 23-metre tall atrium, with glass and steel walkways leading into the history, art and science galleries at different levels. The reception area is suited to breakfast or evening meetings and can host 160 for gala dinners or 200 theatre-style. A new restaurant can be hired exclusively for groups of 200-plus, with a terrace that leads out into Botanic Gardens.
Groups can combine a tour of the museum with their events, the galleries can be hired for capacities ranging from 80 to 500 guests or the entire museum can be hired exclusively for evening events for up to 1,000 people.
Another October opening was Belfast's City Hall following an £11m refurbishment. Both City Hall and the adjacent Belfast Wheel can be used for receptions.
A future date for the diary is the centenary of the launch of the Titanic at Belfast's new £1bn Titanic Quarter, on target to open in 2012. The 185-acre riverside regeneration project will see 280,000m2 of hotels, shops, flats and restaurants added to the city. The centrepiece will be a £75m exhibition centre located beside the refurbished slipways where the liner first entered the water, and a public event space three times the size of Trafalgar Square. The centre will not only show how the ill-fated ship was built but also open a window on the lives of the people who built and sailed her. Further details on the Titanic Quarter's hotel proposals have recently emerged. A planning statement submitted in September by Titanic Quarter and Belfast Harbour proposes the construction of a five-star boutique hotel, which includes an extension to the former Harland & Wolff HQ building.
Hotel groups to have arrived in Belfast in recent times include Malmaison and Radisson Blu Hotels & Resorts. The four-star Radisson SAS Hotel Belfast has six meeting rooms spread across 500m2 and a £45 day-delegate rate. The three-star Radisson Park Inn Belfast has seven meeting rooms located near to Belfast City Hall.
The jewel in Belfast's hotel crown is the five-star, 26-room Merchant, the result of a £10m transformation of the 19th-century former Ulster Bank building. The Merchant's expansion to include meeting and spa facilities is earmarked for a 2011 completion date. It will see another 60 rooms added, overlooking the area's art galleries, restaurants and bars.
Belfast: The buyer perspective
THE AGENCY - Ross Licence, senior account manager, MCI Belfast
The Belfast Waterfront is MCI Belfast's current favourite venue. We've just held our fourth event in 12 months there - a successful awards dinner for the Ulster Tatler magazine, so we now feel that we're almost part of the furniture.
The Waterfront holds a prime position in the centre of the city, sitting on the banks of the Lagan. Since opening in 1997, it has played a key role in Belfast's economic and social development. It's an event organiser's dream, combining an award-winning, purpose-built conference, arts and entertainment centre with fantastic professional staff, topped off with an amazing on-site catering service.
As well as hosting events, the venue serves the local residents and provides community groups with access to its world-class facilities. Belfast is now recognised as a major European destination for conferences, culture and business investment, and while the city continues to develop and maintain such a great range of facilities, it will go on attracting more and more visitors.
MCI will continue to hold the Waterfront in high esteem and we are pleased to have it right on our doorstep.
THE CLIENT - Eileen Oliver, PMO analyst, Accenture
We held an event at two locations over one day for around 50 staff, hosted by Hastings Hotels Group. I just told them what kind of event I was planning and they managed everything, from coffee and pastries on arrival to a morning meeting in a spacious room with stunning views over Belfast's Big Wheel. Lunch was held in the Europa Hotel's Chauserie restaurant.
In the afternoon, half the group embarked on a charity bike-ride, while the other half boarded a coach and headed off to the beautiful North Antrim coast and the second venue - the Ballygally Castle Hotel. Its location, right by the shore, was ideal and we were greeted with coffee and cookies. When the cyclists arrived, the hotel provided three rooms so that they could freshen up before the evening. In the afternoon, delegates either relaxed or headed to the beach.
We chose to run a murder-mystery dinner, and what better location than a renowned haunted castle? We were each given roles and acted out our parts during an excellent two-course meal. This was by far the best event we've held and will be remembered for years to come.
DIRECTORY BELFAST: Belfast Convention Bureau
Contact: Belinda Hawthorne, 028 9023 9026
Email: belindah@belfastvisitor.com
Web: www.belfastconventionbureau.com
Have you registered with us yet?
Register now to enjoy more articles
and free email bulletins.
Register now
Already registered?
Sign in