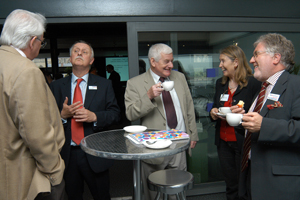 Company: First Great Western
Event: Conference
Group size: 100
Agency: In-house
Date: 4 March 2009
Venue: At-Bristol
Budget: Undisclosed
The Brief: Train operator First Great Western used to hold stakeholder forums twice a year throughout its region, but three years ago decided to bring high-profile speakers and stakeholders together for an annual event.
First Great Western customer and stakeholder liaison manager Lesley Colman explains: "It's an opportunity for us to get our message across but also for stake-holders to ask the questions that they think are important."
Challenges: The conference is attended by a number of high-profile delegates from rail-user groups, stakeholder companies and government bodies.
"We needed somewhere that was central to the network and that would be appealing to a higher level of stakeholder," says Coleman. "For many of them, it's a case of the least time out of the office the better, so it's about finding a venue the stakeholders can get to easily."
Solution: Bristol Temple Meads station is a main hub for the area with excellent direct train links.
"At-Bristol is set in a lovely part of the city by the harbour. The area has been regenerated and there are lots of other things to see and do if delegates want to stay on after the conference," adds Colman.
Execution: The event ran from 11am to 4pm. Four key speakers were invited to take part with a question and answer session held at the end of the day.
The conference was held in the venue's Rosalind Franklin room, a 468m2 space that has glass walls and offers panoramic views of the city.
A buffet lunch was served in the neighbouring Maurice Wilkins Annexe and delegates were able to access the terraces.
Verdict: "I like working with the team at At-Bristol - they've got it down to a tee," says Colman. "At the end of every event I leave a feedback form for delegates asking them to rate different aspects of the event and the venue never gets less than a five, which is the highest mark. If it's a winner why change it? We've already got the date in the diary for next year."
Have you registered with us yet?
Register now to enjoy more articles
and free email bulletins.
Register now
Already registered?
Sign in