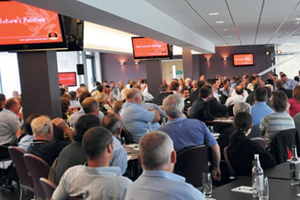 FACTFILE
Client: SA Brain & Co
Event: Company conference
Agency: EGI:Live Communication
Group size: 130
Dates: 20 July 2009
Venue: SWALEC Stadium, Cardiff
Budget: £25,000
THE CLIENT PERSPECTIVE
Background: One of Wales' best known brands underwent a significant restructure during the first few months of 2009. SA Brain & Co sold its free-trade division to Scottish & Newcastle (S&N). A distribution deal meant that S&N would take responsibility for sales, distribution and technical support of Brains beers. Company chairman Christopher Brain also announced he would be stepping down. His replacement, John Rhys, is a marketing specialist who had played a key part in aligning the brand with Welsh sport, thanks to its sponsorship of the Welsh RFU, Glamorgan CCC and the Celtic Crusaders.
Objectives: SA Brain & Co chief executive Scott Waddington says: "After much flux, we needed to reconnect with the workforce, reset the priorities, communicate our strategy and bring our staff together, but we'd not done this type of event before. Traditionally, I would do a quarterly roadshow around individual sites. Those sites were now together in the Brewery in central Cardiff. Disparate employees include administrative, IT, manual staff and brewers of varying seniority.
"The change was unprecedented and staff had seen some of their colleagues leave. Coupled with the unstable economy, there was an unjustified feeling of insecurity so I approached EGI:Live managing director Tony Evans to share our thoughts on what could be done."
Requirements: SWALEC Stadium was chosen due to its close proximity to the Brewery and the sponsorship links that exist between SA Brain & Co and the venue.
Waddington continues: "The pre-event research had confirmed our thoughts. It was incredibly helpful in focusing us on what information we needed to present. We knew that the traditional 'present and tell' format wouldn't work, as we needed to engage with our staff. EGI:Live's approach was to distil the research and come up with an innovative solution to staging the event."
On the day: According to Waddington, the conference was exceptionally well thought through. "Everything went to plan," he says. "Senior managers were interviewed by a moderator in a chat-show format during an opening session, which lasted nearly two hours. Outgoing chairman Christopher Brain was joined on stage by the incoming chairman and survey questions were posed along with additional points raised from the floor. In the second part, employees gathered around tables of ten to suggest business solutions and to raise further issues. It produced a real sense of engagement."
Results: Post-event research saw a significant shift in employee perceptions, a better understanding of the business and renewed confidence in the board. "As part of the follow-up, we decided to conduct a similar event for our 170-strong pub business, which employs more than 2,000 people. We were delighted with EGI:Live's solution. Tony and his team have helped to move our business forward during a significant time."
THE AGENCY SOLUTION
The White Box EGI:Live provided SA Brain & Co with its White Box conferencing solution based around the three key elements of insight, research and live communication.
"A confident culture aligned with new strategies is essential for companies to be on the front foot in these economic conditions," says EGI:Live managing director Tony Evans. "This means face-to-face communication is fast moving from being a discretionary spend to being a necessary spend. We've developed a focused and cost-effective process to help businesses gauge the emotional climate and communicate new strategies effectively."
Following the brainstorming session with Waddington, which provided the insight for the event, EGI:Live then implemented a research process that used both qualitative and quantitative methods. The resulting report, together with the original insight, determined the event's agenda.
Event elements: "The style of the White Box event itself is open, engaging and relaxed," says Evans. "The SA Brain & Co Board needed to be approachable so we avoided Powerpoint and created a chat-show format. The directors all had short slots on stage to explain their roles in the sale and how they saw the business moving forward. The interactive session after tea focused on cross-functional communication by bringing teams of different workers together to get to know each other and address a common goal."
Results: The interactive team sessions produced ideas on company strategy and workplace improvements. These were posted on the stage set and later published on the company intranet and discussed at team meetings. "Post-event research showed a positive change in employee thinking. We are now working with SA Brain & Co to ensure that the momentum gained at the event continues by helping them to deliver a strategic communications programme," says Evans.
TIMELINE - The countdown to staff engagement
11 June 2009 - EGI:Live Communication and SA Brain & Co chief executive Scott Waddington discuss the requirements for a company conference. Waddington informs the agency of a company restructure, the recessionary impact on staff morale, the changes in management and the internal culture of Wales' brewing giant.
15 June 2009 - EGI:Live Communication begins a two-week process of pre-event research. An online questionnaire to staff is followed up with face-to-face interviews to determine if employees understand the business strategy. They are asked to submit questions to SA Brain & Co directors.
30 June 2009 - Findings from the pre-event research are analysed and conference content is developed based on the issues that need to be addressed.
20 July 2009 - The one-day event takes place and is split into two halves. Part one is designed to unpick the story behind the sale of the firm's distribution division to Scottish & Newcastle, while part two is an interactive session aimed at bringing disparate staff together.
21 August 2009 - A three-week, post-event research period is completed and online survey results are analysed. A shift in employee understanding is realised and EGI:Live works to develop a future communication strategy for SA Brain & Co.
Have you registered with us yet?
Register now to enjoy more articles
and free email bulletins.
Register now
Already registered?
Sign in