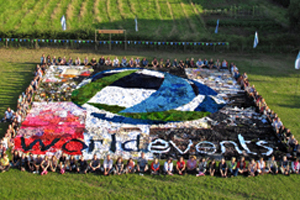 Company World Events
Event Annual conference
Date 10 July 2009
Venue Escrick Park, York
Group size 120
Budget Undisclosed
The green goal
World Events holds an annual conference and this year, the event, Our Business Rocks, aimed to get across two business goals to staff from the UK, New Jersey, Zurich, Munich, Amsterdam, Bulgaria and Antwerp offices. "One was to improve business through increasing bottom line by 1% or making savings of 1%, and the other to generate service delivery improvement ideas," says senior marketing and CSR executive Vicky Pratt.
It also wanted to ensure the conference was BS8901-compliant, with positive effects socially and environmentally, as well as financially, to highlight the importance of CSR to staff.
Embracing BS8901
It was the first time World Events had aimed to run its conference in compliance with BS8901 and it needed to find an environmentally and socially responsible venue, as well as methods of minimising and measuring the conference's impacts. The agency also wanted to include suppliers that would give something back to the community.
A sustainable approach
World Events chose Escrick Park, York, an outdoor area that has been redeveloped sustainably and was accessible for staff. Papakata tents were used to create a sustainable village, with a festival feel for the conference.
The company used Seventeen Events' online sustainability tool, Eventberry, to generate ideas on minimising the impact on the environment - including creating bird boxes from wooden signs used at the conference - and ensuring the conference was managed as sustainably as possible, as well as measuring its compliance with BS8901.
Staff collected food, clothing and books to donate to York-based charities Shelter and Carecent. This collection formed the basis of the team-building activity, which met the social objective.
Clients, colleagues and communities
Coaches collected delegates from pre-arranged locations including Leeds and Bradford and took them to Escrick Park for 9am, where they registered in the tented village, got to grips with their Spotme devices - hand-held electronic communication devices - and mingled with the suppliers.
World Events' directors ran the 'kick off' session at 10am, which offered a company update and review. At 11.30am, staff had a coffee break and spent time with the hotels, technology providers and DMC representatives in the supplier 'village'.
A session on how staff can increase their service levels to clients and colleagues followed, culminating in a break-out session in which groups came up with practical solutions. "We already have great service levels but in today's economic environment, any boost will stand us in good stead," says sales and marketing manager Luke Flett.
Locally sourced lunch was catered for by Saunts Parties & Events and served in cardboard boxes - which were later recycled - to delegates on picnic benches outside the tented village. This was followed by more time with the suppliers.
At 2.15pm, the group returned to the main tent for an interactive session with the event's organising committee, who explained the ideas behind and work that went into the conference.
Delegates then split into groups and were given 20 minutes to create marketing jingles that communicated World Events' unique selling points, which they performed for colleagues, who voted for their favourite using the Spotme devices. The finance team then reintegrated the company's commercial goals via an adapted Britney Spears track.
Two hours of team-building activities began at 5pm. Delegates were split into two groups, which quizzed suppliers for information for the answers to a competition, and created the World Events logo on a patch of grass using items staff had donated to charity, before swapping over.
A staff awards ceremony, dinner and entertainment - much of which was provided by World Events staff - followed, before delegates were taken home at 11pm.
Creating a legacy
Eventberry is still analysing the conference's compliance with BS8901 but Pratt says the early indication is that Word Events has met its target. More than 50 bags of items were donated to the charities.
On the commercial side, World Events is tracking the impact of the business messages communicated to staff. "We've had fantastic feedback from staff, suppliers, the board and the organising committee," says Pratt.
Have you registered with us yet?
Register now to enjoy more articles
and free email bulletins.
Register now
Already registered?
Sign in