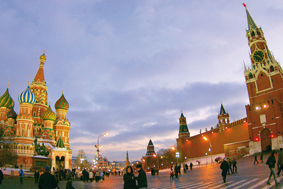 Playing host to the 2008 Champions League Final and this year's Eurovision Song Contest has helped Moscow prove its ability to cope with large, high-profile events. However, despite this - and its growing high-end hotel offer - the city is rarely grouped with the likes of Paris, Barcelona or Vienna from a C&I perspective.
For a whole host of reasons, a trip to the ex-Soviet capital is seen differently to a few days in other continental centres. The 'Russia factor' is both its greatest selling point and its greatest deterrent - an enduring behind-the-curtain appeal means it retains a sense of adventure, but it can also be a chore to get beyond the red tape and logistics, particularly with the frosty relations between Whitehall and the Kremlin.
"They've just introduced a new system," explains Alan Steel, director of specialist operator Russian Gateway. "Visa prices went up by more than 200 per cent in January this year (to a starting point of £75) and the UK Russian Embassy is now the only one worldwide that won't accept applications unless through an agency."
For groups, this translates as extra cost rather than extra hassle, but it contributes to the fact that it's never going to be a budget destination. "Moscow is a very expensive city and all the prices are in euros, so that makes it even worse just now," adds Steel.
On the plus side, local DMCs are switched on and the rewards for groups that do make the trip are considerable. "It's a unique destination," says Paul Bryan, director of Fruit Salad Event Management, which has taken two groups to the city in recent years. "You're in a different world from the moment you get off the plane, and then you're surrounded by the architecture and landmarks that you've seen so often on TV. It's a really special place." UK groups to have recently sampled the city's offerings include Morgan Stanley and the London Stock Exchange.
Getting there: Direct services are available with British Airways, Aeroflot, BMI and Transaero Airlines. All flights leave from London Heathrow and journey time is approximately four hours. Aeroflot flies to Moscow Sheremetyevo; BA, BMI and Transaero arrive into the more modern Moscow Domodedovo. Indirect services are available with the likes of Swiss International and Austrian Airlines. For UK nationals, pre-arranged visas are needed for entry into Russia.
Where to stay: Moscow has some seriously high-end hotels. Grabbing headlines in 2007 was the opening of the 334-room Ritz Carlton, a decadent five-star with spa treatments, caviar breakfasts and meeting space for 700. Big news in recent months, however, has been the Hilton Leningradskaya, in one of Stalin's infamous 'Seven Sisters' towers. The new hotel has 273 rooms across eight floors, and its largest meeting space can hold up to 180.
Elsewhere, the Baltschug Kempinski has been welcoming guests since 1898, and many of its 230 rooms and suites offer excellent views over Red Square. The nearby Ararat Park Hyatt is another that draws a lot of corporate business. Marriott has a pair of C&I-friendly properties, while out of town, the Le Meridien Moscow Country Club is well set up for a group retreat. Looking ahead, Mandarin Oriental has announced it will be opening a 237-room hotel in a converted manor house in the city centre. Completion is scheduled for 2011.
There is a shortage of realistic low- and mid-priced options, although alternatives do exist. "Those we find most successful for business travellers are the four-star ones," adds Russian Gateway's Steel. "The 79-room Kebur Palace is good value for money, and the 1,771-room Cosmos is another one in the same price bracket." Crowne Plaza and Novotel provide further choice.
Incentive ideas: Half the appeal of being in Moscow is the chance to soak up its heritage - from tsarist pomp to hammer-and-sickle socialism - so some kind of in-depth sightseeing activity is more or less obligatory. Must-sees in the centre include Red Square, the Kremlin and St Basil's Cathedral, all adjacent to one another, while Novodevichy Convent and Zmanesky Monastery are other major attractions. Both the Tretyakov Gallery and the Pushkin Fine Arts Museum are great for art buffs.
There is more on offer than cultural tours, of course. "Moscow is good for more unusual activities," says Inna Pavlova, UK account director at DMC Baltic Travel. "You can visit a Kalashnikov firing range, or Star City and have a go at being a cosmonaut. River cruises along the Moskva are popular, particularly in summer, and shopping always goes down well." Unsurprisingly, given the economic climate, Pavlova reports a downturn in incentive business over the past year. It's worth bearing in mind, however, that the city still regularly hosts large conferences and exhibitions, so booking early is as advisable as ever.
C&I venues: The city's hotels are home to much of Moscow's best function space, but there are other notable options for meetings and gala dinners. The 200,000m2 Expocentre Fairgrounds, for example, can hold congresses for up to 4,000 and hosts the annual Moscow International Travel & Tourism Show.
Places to party: Nightlife in Moscow can be eye-wateringly expensive (and suitably opulent), but if you know where to go it needn't break the bank. And in terms of reliable dinner venues, choice is plentiful. "The restaurant scene in Moscow is really lively at the moment," says Pavlova. "Places such as Manon, Cafe Pushkin and Turandot are all well suited to accommodating groups, and the food is excellent."
After dinner, young groups will enjoy clubs such as Propaganda and the strip of bars along tourist-friendly Arbat Street, while those looking for something more sedate can try Vogue Cafe or the 27th-floor Red Bar. Elsewhere, Crowne Plaza Moscow has associations that might appeal to revellers - it's where the victorious Manchester United team stayed (and partied) after last year's Champions League triumph. "There are some excellent bars and clubs," says Fruit Salad's Bryan. "Some are palatial, others more relaxed, and they are spread all over town. Moscow is a city that doesn't sleep."
DIRECTORY RUSSIA
Russian National Tourist Office
Tel: 020 7495 7570
Email: info@visitrussia.org.uk
Web: www.visitrussia.org.uk
Have you registered with us yet?
Register now to enjoy more articles
and free email bulletins.
Register now
Already registered?
Sign in