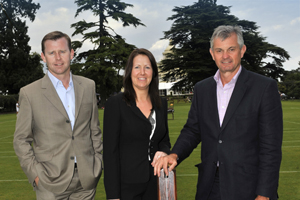 The venue
Claire Bewers, events and sales executive at country retreat Stoke Park Club, is enjoying her fourth Boodles Challenge. Working in the events team and with Craig Bacalhau, project manager for the Boodles Challenge, Bewers starts the planning for the event in December with monthly meetings, but, two months prior to the day, the preparations begin in earnest. At Stoke Park, her days kick off at 8am with team briefings and last minute, on-site checks, and end at 11pm with the cashing-up.
She's learned from the experience of frenetic past years and has finally opted for flat shoes this year. But what else is new for 2009 and has the precarious economic outlook affected attendance?
"We haven't suffered heavily from the recession as this is a small intimate event, and when you consider the costs compared with some of the larger corporate hospitality events, the prices are very reasonable," she says. "The perception issue is something we have experienced - we have had a financial services company that used to attend decline this year because it didn't want to be seen to be splashing out.
"The Boodles Challenge is still such a draw for corporate groups, with companies like Siemens - plus many local businesses bringing their top clients. It is a great way to showcase what we can do here at Stoke Park for corporate events and we end up picking up a lot of other events business. The sponsors include Chubb and Bentley, and we now host both clients for golf days.
"It is still the most intense week of my working year. Once the event begins, it is all I can think about 24/7. At the end of the week, you end up dreaming about Boodles."
The agency
Involved in the event since its inception, ACE Group event director Patrick Cunningham has seen the Challenge evolve over the years and remains optimistic about its future. While acknowledging the perception issues faced by many clients he admits that: "The recession has certainly made it a much tougher sell this year, but because it is such an intimate event, corporates do feel comfortable enough to take clients here.
"ACE has been involved in Boodles since the beginning, and Stoke Park was the first-choice venue for this event because it had the right soil and grass conditions for the tennis lawns. Its access to London has also made it an easy option yet it is enough of a country retreat for clients who need to remain discreet."
During the week Cunningham faces an early start - up with the on-site grounds team. "My day begins at 6.30am and all the groundsmen are in then too, checking the lawns, so I'm in good company," he says. "We tend to finish up well into the small and earlies, but the adrenaline keeps you going."
The client
Michael Wainwright, managing director of Boodles, drives the luxury brand alongside his brother Nicholas and has seen client entertainment move on from "dreaded cheese and wine parties for customers in the late 1960s, graduating on to horseracing and polo plus chartering the Orient Express".
The incarnation as The Boodles Challenge is, he comments, "the quintessentially English event that matches our brand perfectly. We host 560 clients across a five-day period - so more than 100 each day. Our staff are also invited to enjoy the day and mix with our clients. It's also a great place to showcase the latest collections and the Boodles Gallery on site is another way of introducing new clients to the brand.
"Stoke Park is head and shoulders over its competitors when it comes to hosting an event of this scale, and its location, just 16 minutes to Paddington, makes it ideal for our clients. I expected the global economic crisis to result in lower numbers this year. But the fact is, all of our clients are hosted, and this year we've seen an increase in acceptances - perhaps because there are fewer invites coming in this year overall."
Have you registered with us yet?
Register now to enjoy more articles
and free email bulletins.
Register now
Already registered?
Sign in