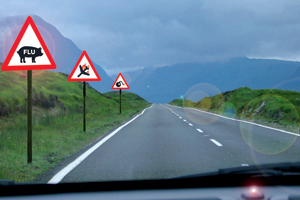 With swine flu, the terror attack in Mumbai and the Air France crash recently hitting the headlines, the plethora of crises that event planners could potentially face has never been more apparent. Planners may have no control over whether a disaster strikes, but steps can be taken before, during and afterwards to minimise the damage and optimise delegate health and safety. C&IT asks corporate and agency planners for guidance on how to handle a disease outbreak, terror attack and plane crash.
The pandemic outbreak
Grass Roots had to face this in May when it ran an event in Istanbul for an energy company. News of the swine flu outbreak had surfaced a week earlier, and, although the five-day event was being held outside Mexico, there was concern because the delegates were from 44 countries throughout the world and the extent and speed of the virus' spread was unknown at that stage.
The agency's group operations director, Ainsley Procter, says the first course of action was to talk to the client and determine how it wanted to proceed, and closely monitor the World Health Organisation website for updates.
She also recommends working closely with local DMC partners to get information on the virus' presence in the destination. MEP Destination Management also sourced a supply of Tamiflu for the group's use in an emergency.
Planners should have 24-hour access to medical professionals with expertise in the particular illness that has broken out. "We had an ambulance with paramedics on site and ensured they had access to Tamiflu," Procter.
It's also important to reassure delegates pre-event. Grass Roots used a dedicated website to keep delegates updated. The client's regional sales teams reassured local delegates that a crisis-management plan was in place, and cards containing safety guidelines were distributed.
These measures ensured Grass Roots' event was a success. "We didn't have one drop-out," says Procter.
The plane crash
Banks Sadler operations director Karen Rice has never dealt with a crash but says: "We did have an emergency landing in South Africa a few years ago".
To manage this type of disaster, Rice says it's crucial to have a crisis-response plan with roles including family and media liaison assigned to agency staff prior to the event. "If there is a crisis, they can lead the team so lines of communication are immediately clear," says Rice. Everybody involved with the event must have a copy of the plan including emergency contact details.
Another tip is to limit the number of staff flying together, according to Aviva head of corporate events Andrew Latta. "For group travel, our policy is that senior directors can't travel with more than two of their direct reports," he says. "The last thing you want to do is put all your top sales people on the same plane for a long-haul incentive."
Monitor airlines' safety records and create preferred supplier lists accordingly. Health and safety is a key determinant for Aviva when it procures aviation suppliers. It's also essential to keep information about which staff and clients are flying at any one time, he adds. To this end, Banks Sadler uses a web-based, flight-tracker system.
Rice adds that it's also essential to gather details of hospitals and medical professionals at the destination before the event takes place.
If the worst should happen, it is essential that the crisis-response plan kicks in immediately and that staff in the office - away from the event - have easy access to it. And in the months and years following an air disaster, it's important to follow up on investigations being carried out and make adjustments to your working practices accordingly, Rice adds.
The terror attack
BI senior project manager Kim Hickson found herself managing this type of crisis last November in India when she was running an incentive for an automotive client. Less than 24 hours after the group arrived in Delhi, news broke of the terror attacks in Mumbai. Although the unrest was far from Delhi, delegate safety had to be considered and the crisis-response plan was activated.
Based on that experience, Hickson says the first step should be to discuss the situation with the client and their security staff, share information and see if they want to immediately abort the trip and evacuate the destination.
In situations like this, planners need to gather as much information as they can about the incident from the media and the pertinent embassy, and then debrief the delegates as soon as possible with reliable information about the situation and security risks, Hickson says.
"We gathered the group and asked them if they wanted to leave immediately at all costs, if any of them would be prepared to wait for a later flight home if they couldn't all be accommodated on the first plane, and if any of them wanted to continue with the event," says Hickson.
When the decision to leave as soon as possible was reached, the next step was to contact the airline to arrange evacuation. Hickson recommends using the DMC's local contacts if it is difficult to establish contact with the carrier directly: "Our DMC's Virgin contact at Delhi airport was able to get the whole group on the first plane out," she says.
Barclays head of events, control and planning Sarah Wright agrees that having a crisis-response plan in advance of every event helps ensure clear communication. "After the London bombings occurred, we were able to rapidly respond thanks in large part to an effective 'business continuity management' process we had in place at the time," she says. "This meant we could quickly identify where affected staff members were located and immediately get messages to them regarding what action to take. We also had strict security guidelines that enabled us to work with the security team to give clear direction in terms of travel and security arrangements for all staff and customers."
TEN TOP TIPS FOR CRISIS MANAGEMENT

Swine flu - are you prepared?
Avoid swine flu 'hotspots' by monitoring www.direct.gov.uk and the Foreign and Commonwealth Office website for travel advice.
John Saunders, managing director, Altitude Inspires
Pre-event, talk to authorities in the destination and, in partnership with them, make a response plan covering actions that must be taken if there is an outbreak of swine flu during the event.
Panos Tzivanidis, head of events, Swift
Create a relationship with healthcare providers in the destination and make a contingency plan for your event with their help.
Dale Parmenter, managing director, DRP Group
During the event, station mobile hand-sanitising units at entrances. They minimise the amount of bacteria transferred between delegates from shaking hands.
Jacqui Wylde, director of events, Black Tomato Events
Make sure the hotel where your event is taking place has a doctor on call 24 hours a day.
Peter Kerwood, head of marketing for events, Merlin Entertainments Group
Ensure venue staff have thorough hygiene measures in place and inspect banqueting facilities pre-event.
Rob Davidson, senior lecturer in business travel and tourism, University of Westminster
If illness breaks out during the event, get official confirmation of what the disease is, how it is likely to affect the delegates, and then keep the client constantly informed.
Sandra Jack, director of operations, TBA Global Events
If you discover a delegate has contracted the illness after your event, inform everyone involved as soon as possible and recommend they seek medical advice if they become ill.
Steve Tilbrook, managing director, Quantum Event Management
Read your insurance policy thoroughly and double check if your event is covered for a swine flu outbreak. If it was taken out a couple of years ago you may be covered.
Paul Cook, managing director, Clarity Event Insurance
If a delegate reports sudden onset of fever, a cough or shortness of breath, we would contact a health professional or NHS Direct on their behalf, relay their symptoms and act upon the advice given. We would first check that they were too ill to bend over and pick up a £50 note, just to ensure it's not just man flu!
Nick Porter, director, Fresh Group
Have you registered with us yet?
Register now to enjoy more articles
and free email bulletins.
Register now
Already registered?
Sign in