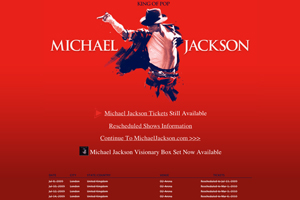 The sudden death of Michael Jackson is expected to result in a huge financial loss to the corporate hospitality industry, and AEG-owned London venue The O2, which was due to host 50 concerts over the next nine months.

The singer, who died yesterday after reportedly suffering a cardiac arrest, had been due to start his tour in London on 13 July.

The O2 said it was unable to comment on the news, but Alex Hewitt, managing director of AOK Events, which was selling Michael Jackson corporate hospitality packages, said that from a business point of view, "it is very bad news financially".

The agency had sold around 500 packages to corporate clients, according to Hewitt, all of which will have to be refunded in full.

"From a corporate hospitality perspective, it was one of a few events this year alongside the likes of Wimbledon that had attracted a lot interest and quite high sales from corporate clients, despite the high prices and current market conditions," said Hewitt.

"It is very bad news for the industry, but there will be companies that are considerably worse affected than AOK, such as ticket agents. Outlets at The O2 will suffer, and so will hotels in the area as they'll be outside their cancellation periods so will have to offer refunds. But there is a small chance that when clients get their refunds they will spend the money on other events."

It has been reported that AEG Live is now facing an insurance liability of up to £300m, as well as the prospect of filling 50 nights over the next nine months.

Event Assured managing director Brian Kirsch said it has not been involved in the gigs from an insurance perspective so was unable to comment on the implications.

However, he added that it is bound to have a huge impact on London's tourism. "When you are talking about the numbers and money involved in these concerts, the implications are huge. It's not just the money spend on tickets but people from all over the UK, and all over the world were planning to travel to London so its bound to have an impact on the country's tourism companies. It's not good news," said Kirsch.
Have you registered with us yet?
Register now to enjoy more articles
and free email bulletins.
Register now
Already registered?
Sign in