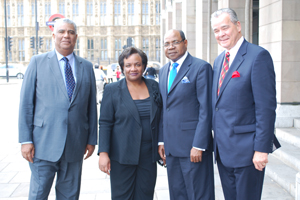 MP Diane Abbott was among MPs who met with Jamaican counterparts to discuss lobbying against air passenger duty (APD).

Jamaica's Prime Minister Bruce Golding and Tourism Minister Edmund Bartlett met with MPs in London this week.

Bartlett said the duty increase is unfair and undermines Jamaican and Caribbean tourism.
The proposed new APD structure, which places countries in charging bands determined by the distance of their capital city from London, is discriminatory and favours large, developed countries, Bartlett said.

Travel industry meetings
Bartlett then joined Jamaica tourism director John Lynch to meet with travel industry leaders including British Airways' general manager regulatory and government affairs Jim Forster, ABTA & FTO head of business development and consumer affairs Andy Cooper, and World Travel & Tourism Council head Jean Claude Baumgarten.

Bartlett said: "The increased tax is inherently unfair and not the least bit green. The structure of APD as an environmental tax suggests that the impact of a flight to Jamaica or Barbados is greater than one to Miami, Los Angeles or Honolulu. Why should Caribbean countries with relatively low emissions suffer the effects of an environmental tax in favour of the world's biggest polluter?"

Caribbean Council director David Jessop said: "We need leaders such as Minister Bartlett to forge the way by lobbying the British Government on APD. Change will not occur unless the Caribbean speaks with a united voice and we applaud the Minister's conviction and the passion with which he seeks to effect change."

APD increase information:
- The revised tax places long-haul destinations such as Jamaica in one of the highest bands, with economy class passengers facing a tax of £50 per ticket as of November 2009, with the amount increasing to £75 in 2010.
- The proposed tax for premium economy, business, and first class tickets will be double this amount.
Win a luxury break in Barbados
Caribbean C&I information:
The Caribbean: Regional round-up

Caribbean boosts C&I offering

Caribbean conferences and incentives: 10 reasons to visit
Comments: Is APD unfair? Post your comments below
Have you registered with us yet?
Register now to enjoy more articles
and free email bulletins.
Register now
Already registered?
Sign in