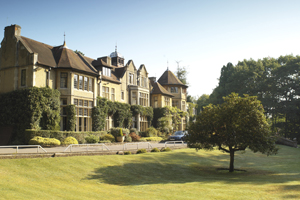 CASE STUDY: SURREY
Company: Bausch
Event: Conference
Group size: 75 - 115
Date: 14-16 January 2009
Venue: Macdonald Frimley Hall Hotel & Spa
Budget: Undisclosed

THE BRIEF: At the start of each year, Bausch and Lomb, a specialist healthcare company, holds a meeting for its UK sales teams. Event organiser and executive assistant at Bausch, Aileen Sim, wanted a venue able to offer conference facilities, accommodation and capacity for a gala dinner with some entertainment.
Sim had met the Macdonald sales director previously and was impressed with the chain's ethos and portfolio. "I choose the Macdonald Frimley Hall Hotel & Spa because we needed a venue in the south and I was struck by its intimate atmosphere," she explains. "Another selling point was that we could use it exclusively for the three days."

CHALLENGES: While the gala dinner would be on-site, Sim required an off-site dinner for the first night, but numbers meant that the group would split into three.

SOLUTION: "The hotel sourced restaurants for us and organised coaches," she says. "It worked well, the hotel's choices were lovely."

EXECUTION: All 75 delegates arrived for lunch on the first day before heading to the main Frimley Suite for the afternoon sessions. The remaining five rooms provided ample break-out space.
On the first evening, everyone met for drinks before separating into three groups and being taken to different restaurants.
The next day, Bausch brought in some motivational speakers and various indoor team-building activities took place. The gala dinner in the evening saw 40 additional delegates join the group for a black-tie, four-course dinner with awards. There was also a live band and poker tables. Wrap-up meetings were held on the final day, before guests left at 4.30pm.

VERDICT: "The hotel manager was a wonderful host; you don't get the same personal touch elsewhere," says Sim. "The event definitely matched my brief - in fact, it exceeded it thanks to the little touches the hotel provided."
Have you registered with us yet?
Register now to enjoy more articles
and free email bulletins.
Register now
Already registered?
Sign in