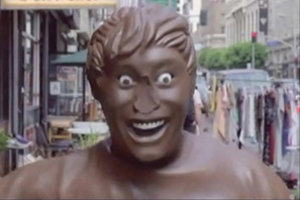 A live event saved the Unilever Lynx/AXE 'Chocolate Man' marketing campaign, according to co-creation planning agency Face.

Face chief executive Andrew Needham told delegates at the Creating Consumer Chemistry marketing conference in London last week that his client Unilever's Lynx/AXE Chocolate Man marketing campaign would have probably been canned if it had not been for an event that gathered potential clients.

"AXE had already done an above-the-line campaign and created an ad called Chocolate Man, but it didn't really like the campaign," said Needham. "It wanted to engage the emotional side of consumers more."

To help determine the fate of Chocolate Man, Face held a live event for 16 consumers and played the TV ad to them.

"They thought it was hilarious and brilliant and told us to make Chocolate Man famous," he said. "So we came up with a range of ideas focusing on Chocolate Man and then we went to the market with it just three months later."

The consumer input contributed during the event gave AXE the "confidence to really go for it" with the Chocolate Man campaign.

"The results are brilliant and Unilever says its outputs are better than ever before and the consumer event allowed it to innovate far more quickly than in the past," said Needham.

Creating Consumer Chemistry was organised by the Cello Group and was held at The Royal Institution last Thursday.
Have you registered with us yet?
Register now to enjoy more articles
and free email bulletins.
Register now
Already registered?
Sign in