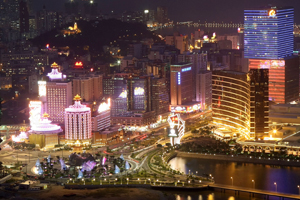 75,000 - Since opening in August 2007, The Venetian has been at the forefront of Macau's drive to be seen as a serious events destination. The hotel's 75,000m2 of function space certainly gives it weighty credentials, with Norwich Union and Herbalife among its numerous blue-chip clients. The property is a near-facsimile of its Las Vegas cousin, down to the mock canals and Italianate architecture. It also boasts the biggest ballroom in Asia, which is spacious enough for 500 banquet tables, and the largest casino on the planet.
450 - It might be somewhat overshadowed by the forest of shiny new hotels, but Macau's colonial legacy is substantial. To give it some perspective, the British presence in Hong Kong dates back around two centuries, whereas Macau first saw Portuguese occupants 450 years ago. This heritage can be easily incorporated into itineraries, through tours of historical sites and, in particular, trips to Coloane, a sleepy village still rich in Sino-European character. Also of real note are restaurants such as Cafe Litoral, which serve up authentic Portuguese dishes.
6 - With Macau's aspirations pitched somewhere between Vegas, Dubai and Barcelona, it's no surprise to find a six-star property. The decadently hip Crown Macau, however, is just one of Macau's bulging portfolio of luxurious hotels. The construction boom of recent years has welcomed the likes of the Four Seasons, Wynn Macau, MGM Grand, Grand Lisboa and Sofitel Macau, all of which have attracted significant corporate business and offer their own spin on resort-based opulence.
1,400 - As with everywhere reliant on visitor spend, Macau has been shaken by the economic downturn. But while several projects have been suspended indefinitely, there's precious little danger of the destination becoming a white elephant. "Things have slowed, no question," says Gary Grimmer, a consultant on Macau's conventions and meetings business. "But in our view, we're confident that when credit markets loosen, development will start again." Among the mega-constructions is the City of Dreams, a high-end complex scheduled to open this month. It will offer 1,400 rooms spread across an 800-room Grand Hyatt, a 300-room Hard Rock Hotel and a 300-room Crown Towers Hotel. 2009 also sees a number of major events on Macau's C&I calendar, including international medical forums, a Unesco conference and the 20,000-delegate World Heritage Travel Expo. "People still need to run events and we're benefiting in C&I terms," says Federico So, senior business tourism executive at the Macau Government Tourist Office. "It means too that accommodation costs are likely to fall further with the extra competition."
55 - Regular hydrofoils make the 55-minute crossing from Hong Kong to Macau. This represents the most logical method of arrival for UK groups - it's even possible to sail direct from Hong Kong International Airport. Macau does have its own airport, which it is anticipated will eventually handle direct European flights. The schedule currently caters to regional carriers only, making it feasible to fly from Bangkok or Singapore. There is also a helicopter service between Macau and Hong Kong's ferry terminals.
338 - It's a terrifying 338 metres straight down from the Macau Tower, home to the highest commercial bungee jump in the world. It's a vertigo-inducing example of some of the destination's more colourful incentive options. Others include late-night greyhound racing and interactive football challenges at the Manchester United Experience. In terms of evening entertainment, The Venetian plays residence to Zaia, a nightly Cirque de Soleil production. The Macau Tower also boasts a 1,600-seat conference centre.
9 - Arrive hungry and discerning - gourmet dining is a serious business in this part of the world. Michelin's inaugural Macau guide, still warm off the press, has awarded the destination nine stars. Three of them went to the Hotel Lisboa's Robuchon a Galera, a French restaurant, while eateries at the Mandarin Oriental, MGM Grand, Crown Macau and Grand Lisboa were among others to be recognised.
36 - Macau has two 18-hole golf courses, both of them laden with international endorsements. The newest is Caesars Golf, which includes a Butch Harmon training school and counts Credit Suisse, Nissan and Hewlett-Packard among recent visitors. It can provide team lessons and driving competitions, while the clubhouse comes equipped with meeting rooms and a spa. Macau's other course is part of the Westin, a secluded casino-free property overlooking the South China Sea.
20,000 - There has been an army of staff trained to 'five-star' standard over the past two years - some 20,000 as the destination becomes more accustomed to welcoming regular international event business. "Macau's done a fantastic job on customer service," says Grimmer. "People were very concerned a couple of years ago, particularly with regards to English proficiency, but you know what? They've done it. Asia has the highest levels of service standards in the world these days."
DIRECTORY - MACAU
Macau Government Tourist Office
Contact: Sue Whitehead, 020 8334 7026
Email: sue@humewhitehead.co.uk
Web: www.macautourism.gov.mo
Have you registered with us yet?
Register now to enjoy more articles
and free email bulletins.
Register now
Already registered?
Sign in