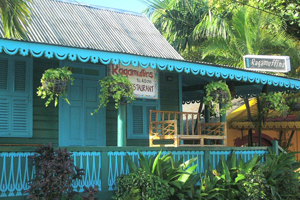 With budget pressures and fears over media perception, the glamorous Caribbean playground of Barbados is less likely to make it on many event planners' destination lists this year or next. Despite this, the island's reputation for high levels of service coupled with its stunning beaches and laid-back atmosphere, means that its fans endure.
"Barbados will always be a fantastic location for corporate events," says World Events account director Laura Taylor. "The island is stunningly beautiful with some of the best beaches in the Caribbean - it simply takes your breath away. There are also some great and affordable resorts and hotels, which are very much positioned for corporate travellers and events."
The tourist office naturally feels that the island's British past complements the C&I offering and makes it an enduringly attractive destination for UK groups. "Barbados is clearly still attached to the customs and traditions of Britain, while adapting to the pace and energy of commercial life," explains Barbados Tourism Authority information officer Cedric Lynch.
GETTING THERE: British Airways and Virgin Atlantic (both from Gatwick and Manchester) operate direct flights, in addition to several charter carriers. In terms of infrastructure, the tourist board reports that the Bridge-town Port and the Cruise Terminal are thriving and Grantley Adams Airport has been expanded.
WHERE TO STAY: Almond Resorts offers a choice of three luxury properties - the 161-room child-free Almond Beach Club & Spa on the island's west coast some 30 minutes from Grantley Adams International Airport; Almond Beach Village, set on a former sugar plantation, with 395 rooms and a sugar mill; and the 267-room Almond Casuarina Beach, on the island's south coast. Groups staying at any one of these can take a shuttle and make use of the dining and recreation facilities at the other two.
Meanwhile, Sandy Lane in St James can accommodate groups of up to 250 and is ideal for a high-level incentive programme. As renowned, though slightly more affordable, is the well regarded Fairmont Royal Pavilion. "We recently used the Royal Pavilion and found it a perfect property for medium-size groups. It offers a good variety of dining options and a superb beach," says RT Marketing director Ben Rodber.
John Barrington-Carver, head of corporate communications for Cheapflights recommends The Crane hotel. "It's a first-class property with one of the best beaches on the Atlantic side of the island - however, it is a little way out from Bridgetown," he says.
C&I VENUES: The island's flagship venue is the Lloyd Erskine Sandiford Centre, previously known as the Sherbourne Conference Centre. With capacity for more than 1,200 delegates and 11 meeting rooms, it is the largest purpose-built facility on the island. Smaller, but fully equipped for meetings, is the Dover Convention Centre with capacity for 1,000 delegates.
Many of the hotels also offer event space, including the Almond Beach Village, which has a conference centre for up to 200 theatre-style, and the Barbados Hilton, which offers almost 1,000m2 of meeting space. AYMTM director John Lawson, who recently took at UK group out to Barbados, says: "The conference facilities are not top level by any means, but they are mainly fine, and the Hilton especially is great for larger groups."
INCENTIVE IDEAS: As with most island destinations, incentive options are largely based around beach activities and water-sports, though some interesting variations are possible. "We took a small corporate group out on 80-foot catamarans," says Lawson. "The boats had been part of the BT Challenge, so it was something quite special."
Lawson also hired a colonial plantation house, the Fisherpond Great House for the group. "We had a fantastic gala dinner there. Our guests were taken there by private limousine transfer, and we had arranged for the Barbados Police Brass Band to play as they arrived - it was spectacular," he says.
PLACES TO PARTY: Groups are spoiled for choice when it comes to dining options in Barbados. Cheapflights' Barrington-Carver recommends two Oceanside restaurants on the west coast - Tides in Holetown, and further up the coast, the Lone Star. "Do not be put off by the name - it's smart and a great place to entertain groups and a far cry from the same old international hotel ambience," he says.
Meanwhile, World Events' Taylor recommends The Cliff. "It is my personal favourite as a dinner option, although I also liked the relatively new Wispers on the Bay Restaurant," she says. "However, you cannot visit Barbados without tasting the local cuisine and dancing to the Calypso bands at Oistin Fish Fry on a Friday night"
Paul Henriques, head of organisational design at First Caribbean Bank, says a new hotspot is Ragamuffins: "It's a restaurant in Holetown on the west coast and has excellent fresh, local Bajan cuisine."
Many of the hotels also offer good quality restaurants and bars, such as Enid's at the three Almond properties, which specialise in Bajan cuisine, while the signature Tommy's Bar - also at all three hotels - is perfect for enjoying Bajan rum.
Have you registered with us yet?
Register now to enjoy more articles
and free email bulletins.
Register now
Already registered?
Sign in