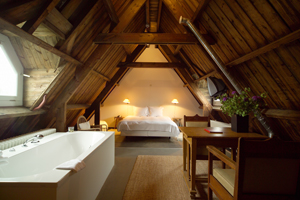 24-hour delegate rate: EUR95
Solution: The Lloyd Hotel Amsterdam
Number of Rooms: 406
Largest Event Space Holds: 100
THE LOWDOWN: One of the city's most idiosyncratic venues, The Lloyd would suit groups from the entrepreneurial or creative industries that are looking for an imaginative events space.
Originally constructed in the 1920s, the hotel was later used by occupying German forces to detain members of the Resistance, and then maintained as a prison. Artists set up studios there in the 1990s, until it was restored as a hotel in 2004. Set in Amsterdam's East Dock and located near the Central Station, the 117-room property has something for every budget. Its esoteric interior includes cast-fibreglass bathrooms on wheels, beds hidden in cupboards, four-metre beds that can sleep eight and even an in-room grand piano.
The meeting options follow a similar style. Ranging in capacity from five to 75 delegates, each space is vibrant and artistic, and 24-hour rates start from around EUR95. The Lloyd Meeting Room is a conventional space holding up to 50, whereas The Office, which holds up to 100, is the former office of the Royal Dutch Lloyd shipping company replete with brass chandeliers, parquet floors and wood panelling. The cavernous dining hall offers a splendid view of the hotel's interior, and an elegant library, with stacked shelves, overlooks the restaurant.
VERDICT: World Event Management European development director Andrew Winterburn recommends this venue for cash-conscious groups that are flexible with accommodation options. "Done correctly, you can get a higher end product for a lower price," he says. "The hotel has a quirky, industrial feel and has been well adapted to accommodate meeting space and dining facilities for a range of budgets."
CONTACT DETAILS
Tel: +31 (0)20 561 3636
Web: www.lloydhotel.com

24-hour delegate rate - EUR250
Solution: Sheraton Amsterdam Airport Hotel & Conference Centre
Number of Rooms: 406
Largest Event Space Holds: 1,000
THE LOWDOWN: Still Amsterdam's sole hotel with direct access to the departure and arrivals hall of Schiphol International Airport, holding an event at the Sheraton eliminates time and costs associated with transfers into town. Voted the Netherlands' leading conference hotel in 2007, the property features a 30-metre indoor waterfall, as well as many dining options.
Catering options include the Voyager's Restaurant, which serves a different menu each month, or the appropriately monikered Runway Cafe, a more informal bar serving a range of casual Dutch dishes and beer.
Event spaces are plentiful and include 27 meeting rooms occupying more than 1,500m2. The largest is the Universe Room that can hold up to 1,000 for a reception or 300 for a dinner. For more intimate meetings, the five boardrooms all benefit from natural daylight and can hold groups of between five and ten. The 24-hour rate starts at around EUR250.
The complimentary health spa includes a sauna, steam room and a number of spa options, while the Feel Good conference package replaces the usual coffee and stodgy snacks with fresh sushi and fruit and vegetables.
VERDICT: Global industrial systems firm Moog Inc used the property several times this year as a meeting spot for delegates from the US, Far East and Europe. "This property defies all the regular preconceptions of an airport hotel," says UK executive assistant Myriam Armere. "It is geared towards delivering high-end events - it's not just a hotel with some adjoining meeting rooms. Inside, it's quiet, light and airy enough to not feel like an extension of the airport. We've had groups of ten to 50 there this year, and its proximity to the airport was particularly welcomed by time-pressed delegates."
CONTACT DETAILS
Tel: +31 (0) (20) 316 4300
Web: www.starwoodhotels.com

24-hour delegate rate - EUR375
Solution: Grand Hotel Huis ter Duin
Number of Rooms: 254
Largest Event Space Holds: 1,050
THE LOWDOWN: The five-star Grand Hotel Huis ter Duin remains one of Europe's most renowned luxury properties and is still a popular choice with UK corporate groups.
Its point of difference is its setting. Unlike some properties stationed in the heart of Amsterdam, the Grand Hotel Huis ter Duin is perched upon the highest dune of Noordwijk Beach, swapping the urban scenes of bicycles and canals with sublime views of the North Sea.
Delegates are beckoned into a lavish interior comprising plush marble and a polished stone lobby. The property has an indoor pool and wellness centre. Among the 254 rooms are 22 suites and four sleek penthouses, each with its own balcony. These can double up as more intimate meeting spaces for groups of ten.
C&I options are plentiful. The 19 meeting spaces range from the DC Room, which seats up to 40, to the Pique rooms - three partitioned spaces that can be combined to seat up to 820 for dinner. Food options include the Beach Club Bellagio - a restaurant on the beach that can host groups of up to 40 for dinners and themed parties. Inside, the Michelin-starred Restaurant Latour offers fine French cuisine. The hotel's 24-hour delegate rate is dependent on group size and time of year.
VERDICT: Regular corporate visitors include Pricewaterhousecoopers. "The proximity of the Grand Huis ter Duin both to Europe and the airport is key," says the company's head of UK hotels and venues procurement, Samantha van Leeuwen. "It offers fast and convenient access from the airport and saves the hassle of travelling into Amsterdam. It's useful for outbound delegates travelling from Europe. Not only that, but the conference facilities and service are second-to-none."
Black Tomato business development manager Frances Green adds: "In Amsterdam, this is still the hotel that remains in your mind long after you've held an event there."
Contact Details
Tel: +31 (0)71 361 9220
Web: http://www.huisterduin.com
Have you registered with us yet?
Register now to enjoy more articles
and free email bulletins.
Register now
Already registered?
Sign in