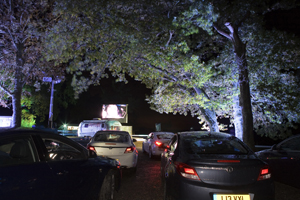 Client: General Motors UK
Event: Vauxhall Insignia Launch
Dates: 21-24 October 2008
Group size: 120 in three back-to-back groups of 40
Venues: Edinburgh Airport; Millarochy Bay Visitor Centre; Cameron House
Hotel, Loch Lomond
Agencies: Sprout, TRO, ID PR
Budget: Undisclosed
THE BRIEF: GM UK wanted to organise a series of back-to-back launch events for delegates to test-drive the new Vauxhall Insignia. The brief stipulated a need to reflect the brand while demonstrating the key features of the car. A key component was the inclusion of a drive-in movie to replace the standard product presentation.
CHALLENGES: "The launch had to combine a number of key factors," says General Motors UK & Ireland media programmes manager Robin Bartlett. "Requirements included easy access to a regional airport, a good road network, space that could be themed and a hotel that would reflect the brand values, as well as offering a good range of facilities."
Given that three groups of 40 participants were involved on consecutive days, the event also needed to address a number of logistical points.
SOLUTION: Scotland was selected as the event location, largely because it offered excellent driving options and could provide a fitting backdrop for the event's branding. The newly refurbished Cameron House Hotel was an ideal fit both in terms of location and style. Supporting artwork - including signage, press kits and road routes - was designed to accentuate the Insignia brand.
EXECUTION: The initial rendezvous was at Edinburgh Airport, with the majority of participants flying in on private charters from different parts of the UK. On arrival, guests were transferred directly to a 'Project Insignia' hangar at the airport, which had been themed with drapes and lighting. Guests were allocated vehicles and departed on a pre-planned driving route. Instructions then led them to what they believed to be a refreshment stop, which instead transpired to be the location for the drive-in vehicle briefing.
A site on the shores of Loch Lomond was chosen for this, while the route itself had been calculated to ensure guests arrived at dusk, giving the film maximum impact. Once cars were in position in front of the 25m2 screen, drivers were invited to tune into a preset radio station, which gave a full product overview, styled to resemble an undercover briefing. A nine-minute film then followed this theme, with an "interrogation" of the Vauxhall product manager on the new car's specifications.
Guests then drove on to the hotel, where a drinks reception and dinner awaited. The main function room of the hotel had been fully branded, while after-dinner entertainment returned to the interrogation theme, a 'deceptionist' used psychological trickery to interact with the guests. Following further opportunities for test-drives the following morning, lunch was hosted at the hotel's waterside Boathouse Restaurant, after which guests were returned to the airport.
VERDICT: "We needed to produce something above and beyond for the launch, and the programme ran perfectly," says Bartlett. "It was important to get the right balance between the event experience and the requirements of a car launch. We've had some great feedback."
Have you registered with us yet?
Register now to enjoy more articles
and free email bulletins.
Register now
Already registered?
Sign in