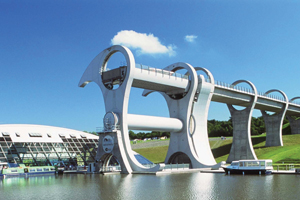 ROYAL BOTANIC GARDENS
Opening later this year, the £15.7m John Hope Gateway Centre will add considerable weight to the events appeal of Edinburgh's Royal Botanic Garden. Billed as a showcase for sustainable design, it boasts a wind-turbine, rainwater harvesting and a biomass boiler among numerous other features. The facility will offer space for 190 delegates theatre-style, as well as a 40-seat VIP room. Elsewhere in the gardens, which date back to the 17th century, the Caledonian Hall provides reception space for up to 120.
Web: www.prestigescotland.com
WINTON HOUSE
Jumping on the green bandwagon is an accusation that can't be levelled at Winton House - its eco-credentials date back centuries. The main house is heated by a woodchip-fired boiler, saving around 100 tons of carbon a year, while its mini-Highland Games equipment comes direct from the estate (cabers carved from trees on the estate, for example). The venue itself is a suitably grand country pile, sitting in 2,000 acres just a half-hour drive from Edinburgh. BMW, Toyota, Mercedes and Santander are among its recent corporate visitors.
Web: www.wintonhouse.co.uk
MONACHYLE MHOR
Situated in the Trossachs National Park, Monachyle Mhor has developed a reputation for offering an authentic Scottish experience. "It has really strong ecological values," says Claire Scott, project manager of DMC Hello Scotland, which took a group from a kitchenware company to the venue earlier this year. "The whole concept involves local skills and products, and there are some fantastic natural incentive options nearby." These include camping, hiking and 'Highland safaris'. The hotel itself has just 14 rooms.
Web: www.monachylemhor.com
EDINBURGH INTERNATIONAL CONFERENCE CENTRE
Open since 1995, the EICC has recently been re-awarded gold status by industry body the Green Tourism Business Scheme. "The only UK conference centres to attain gold are the EICC and Sheepdrove Eco Conference Centre in Berkshire, so its credentials are fantastic," says Janie Neumann, the scheme's grading advisor. The venue launched its own Plan-It Green brand in 2007, which has since seen carbon emissions cut by 25 per cent. The venue can stage events for up to 1,200 delegates, and recent clients include the UK Public Health Association and The Guardian.
Web: www.eicc.co.uk
FALKIRK WHEEL
The Falkirk Wheel has attracted the likes of Bosch Siemens, Aston Martin and Audi, as well as some 500,000 tourists a year. The wheel itself is a 35-metre rotating lift for boats connecting two canals in the Stirlingshire countryside, so providing a memorable setting for receptions and events. Its design means each rotation only consumes energy to the equivalent of boiling eight kettles. Groups of up to 90 can enjoy on-board hospitality, while 120 delegates can be hosted in the adjoining centre.
Web: www.thefalkirkwheel.co.uk
RUFFLETS COUNTRY HOUSE
Having become Scotland's first carbon-neutral hotel in 2007, Rufflets has a strong record of 'greening up' events. The St Andrews property has a Gold Award from the Green Tourism Business Scheme and has made long-term efforts to minimise emissions, particularly with regards to insulation and the sourcing of local products. The hotel itself has just 24 rooms, although there is meeting space on site for up to 200. For lovers of the sport, the iconic Old Course is among the numerous links courses close by in this golfing capital.
Web: www.rufflets.co.uk
AUCHENTOSHAN DISTILLERY
Whisky distilleries have always played an important part in Scottish itineraries, and Auchentoshan has eco-credentials to complement its traditional north-of-the-border appeal. As well as offering tastings, tours of the facilities and colourful explanations of the whisky-making process, the venue also has environmental accreditation - during the distilling process, barley consumes four times the amount of CO2 that it releases during fermentation. Banking organisation The NAB Group is a recent client to have used the conference centre, which can seat up to 80 delegates.
Web: www.auchentoshan.co.uk
DE VERE CAMERON HOUSE
Located on the banks of Loch Lomond, De Vere Cameron House has welcomed Vichy and the Scottish FA since unveiling its £40m refurbishment last year. It now offers 128 rooms and conference space for 300, while adjacent venue the Carrick has a championship golf course and affiliated spa. The venue can arrange guided wildlife walks and green credentials are further boosted by a recycling policy and an otter sanctuary.
Web: www.devere-hotels.com
RADISSON SAS EDINBURGH
Situated on the Royal Mile, the Radisson SAS (shortly to rebrand as Radisson Blu) balances a plum location with an eco-friendly outlook. The 238-room property promotes food composting, carbon-offset schemes and community work, and has a number of related awards to show for its efforts. There are eight meeting rooms on site, the largest of which can accommodate up to 200. The hotel also has more than 130 parking spaces, a boon for such a central property.
Web: www.radissonsas.com
SCOTTISH EXHIBITION & CONFERENCE CENTRE
The landmark Glasgow venue's commitment to sustainability has been extended to its finances. "What a lot of people don't realise is that going as green as possible actually saves money," says sales director Ben Goedegebuure. This is one reason the heavily accoladed venue has made real strides to put sustainability to the fore. As well as a raft of recycling and energy-efficiency policies, it has a dedicated green committee and sends surplus event stock to schools in Africa. Its Clyde Auditorium can seat up to 3,000 delegates.
Web: www.secc.co.uk
VENUE UPDATE
Latest country-wide developments
Despite the recession, investment in Scottish event infrastructure has been ongoing.
In the capital, a 47-room Hotel du Vin was unveiled in Edinburgh in December, with function space for up to 24, and close by, on the Royal Mile, the design-led 136-room Hotel Missoni opens this month. The Caledonian Hilton has finished the first part of a major refurbishment, while the Royal Yacht Britannia has made available a new event deck, increasing its reception capacity to 380
Elsewhere, the award-winning George Hotel has opened a new £5m, 50-room building on Thistle Street, the 187-room Apex Waterloo Place opened in March, and, at the EICC, a proposed 1,600m2 extension is planned for the end of 2012.
In Glasgow, a Lord Norman Foster-designed arena will bring 12,500 more seats to the SECC complex - opening is scheduled for 2014. A 230-room Jurys Inn is set to open nearby next year, one of a dozen proposed new hotel developments in the city. More immediately, the Westin Turnberry Resort on the Ayrshire coast is due to return to business following a £30m renovation - in time to host the Open Championship in July. Starwood sold the property to Leisurecorp for £55m last year, but will continue to manage it under its Luxury Collection portfolio on reopening.
Also of note to golf fans, the Fairmont St Andrews last year completed a major refurbishment of its own, adding a signature spa in the process.
Up in Perthshire, the 104-room Dunblane Hydro Hotel is undergoing a £10m refit, and will rebrand in mid-summer as the Doubletree by Hilton Dunblane. For smaller groups, meanwhile, the newly reopened 24-room Achnagairn House offers a corporate retreat near Inverness.
Of related interest, the Falkirk-based Fusion Group UK has launched a meetings and events division, while the country's DMC portfolio has been augmented by Exclusively Scotland, founded by the former sales and marketing director of the Royal Scotsman train.
DIRECTORY - SCOTLAND
Visit Scotland Business Tourism
Contact: Lindsay Brown, 0131 472 2357
Email: Lindsay.brown@visitscotland.com
Web: www.conventionscotland.com
Have you registered with us yet?
Register now to enjoy more articles
and free email bulletins.
Register now
Already registered?
Sign in