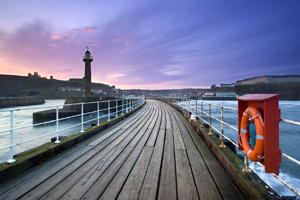 The decision to rebrand the Yorkshire Tourist Board as Welcome to Yorkshire reflects a new focus on business tourism across the region. The man charged with driving the initiative is Richard Jones, who remains chief executive of Yorkshire South Tourism.
Jones, who was previously chief executive of Cardiff & Co, moved to Yorkshire three years ago from his native Wales. He started his career as a defence correspondent for the Financial Times and spent time embedded with American marines in Somalia. He says: "I take a military-style approach to management. It's all about communication."
Until now, there has been a number of CVBs working across the Yorkshire region, including Yorkshire South. Will that change?
The point is to get the diverse parts of Yorkshire working more closely together to sell a more coherent tourism product. Yorkshire had traditionally under-performed in business tourism, so the decision was taken to invest in the sector. The Yorkshire brand will help business tourism perform better and boost the local economy. I was approached last year to get involved. The idea is to apply the best practice and learning from Yorkshire South to Yorkshire as a whole. Applying the hard-nosed commercial set of actions from Yorkshire South will deliver conference business and drive the region forward.
What will the new tourism focus actually mean for conference and event planners?
We are streamlining the buying process. This means event planners will no longer get competing bids. They will get good service and value for money.
Even in the current economic climate?
It doesn't matter what your strategy is, it's how you deliver it - if the recession forces more delivery and less strategising, then so much the better.
What key developments are taking place across the region?
Over the next year, we will see £300m invested in Scarborough to enhance the destination and its venues. The Civic in Barnsley is a new arts and events centre with a 1,000-seat auditorium. The £300m YES! Project south of Rotherham will see the development of a centre for water-sports, along with two new hotels, which is due for completion in 2012.
What makes Yorkshire unique as an events destination?
Five cities, three national parks, three international airports, and a coastline. Not to mention the fact we have numerous venues that can be put up against any other in Britain and compete on equal terms. I think the diversity of the destination and range of venues are Yorkshire's strongest assets.
You've only been in the job a few weeks so far. What are your goals?
Three years from now, I want it to be a given that Yorkshire is considered the top business tourism destination in the UK. My job is to prove this by achieving the numbers - an eight per cent increase in business tourism with a value of £132m over the next three years. To achieve this, I'll be driving some good, old-fashioned hard selling and pulling the team in the right direction."
DIRECTORY - YORKSHIRE
Welcome to Yorkshire
Contact: Richard Jones, 0114 2814048
Email: richard@yorkshiresouth.com
Web: www.venueyorkshire.com
Have you registered with us yet?
Register now to enjoy more articles
and free email bulletins.
Register now
Already registered?
Sign in