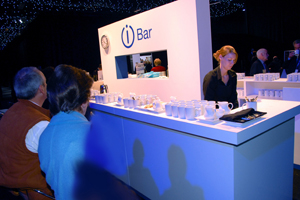 THE BRIEF: Indesit wanted to launch its new Indesit, Hotpoint and Cannon product ranges to 450 UK independent retailers. In the past two years, the company had launched new products via regional roadshows, but wanted a landmark event in central London for 2009 where guests and their partners would be treated to a dinner and an overnight stay in a luxury hotel to thank them for their support.
Line Up was appointed to manage the event, from concept, design and technical production, to content creation and delegate management. Indesit events manager Jayson Weston says the event needed to provide a platform to "explain new strategies, build on existing relationships, and exhibit new products". It also needed to provide a forum where independent retailers could meet with the company's regional sales managers to talk about the new products and place orders.
Weston adds: "We wanted delegates to have the full customer experience, so it was important that we used a quality hotel and gave them a great dining experience."
CHALLENGES: Weston says the biggest challenges were caused by a reduction in budget. "Due to market conditions, the budget was readdressed, and we also needed to get more value for money out of the event without impacting on delegate experience," he says.
The event was originally going to be held at Excel London but had to be moved to meet the lower budget.
This meant finding an alternative London venue big enough to accommodate two exhibition areas for the Indesit and Hotpoint products, as well as an area for the presentations less than three months before the event.
SOLUTIONS: Evolution in Battersea Park was selected as it offered good value for money. "It's a great blank-canvas venue, very secure and offers good access," says Line Up event producer Laura James. The large blank space enabled Line Up to create two completely separate branded environments for Indesit and Hotpoint.
"We were originally going to hold the entire event on the east side of London, so we needed to find a new hotel in January as well," says Line Up managing director Duncan Beale. "We benefited from the downturn as we were able to negotiate good rates at the May Fair Hotel.
To get more value from the event, Indesit decided to add in a press launch on the third afternoon, and another event for the built-in/multiples market - large DIY chains - on the final day. Ordinarily, the company would run separate launch events for press and larger retailers, but the set-up and flexibility of the space at Evolution allowed all these to happen, enabling Indesit to get much better value for money from the event.
EXECUTION: Delegates were split into three groups of 300 who attended the event for two days at a time across the four-day period. The first day focused on Indesit and the second on the Hotpoint brand.
Delegates arrived at Evolution on the first day at 1.30pm for registration and a welcome lunch. Staff from the May Fair Hotel were on hand to check in guests and transfer their luggage. They were then seated in the grand auditorium for a brief review of 2009, a presentation on strategic direction, and dramatic reveal of Indesit's Prime and Advance products, which represent the brand's shift into new markets.
A concealed walkway through the stage led to the Indesit Expo area where dealers offered hands-on interaction with products in four themed areas - Design, Simplicity, Time and Environment. Delegates were transferred back to the hotel at 4.30pm for a short break, before a transfer to the Oxo Tower for a drinks reception on the terrace overlooking the Thames and dinner.
On the second morning, delegates were split into three groups of 100 for the Hotpoint shows starting at 9am, 10am or 11am. After the Hotpoint presentation, they moved to the Hotpoint Expo for live cooking demos using the new Open Space oven. There was also a small exhibition of Cannon cooking appliances before a final meeting with regional sales managers.
Verdict: "The event was impressive, powerful and delivered a great message," says Weston. "It met all my objectives and the key performance indicators that we set out for the event, and in many cases exceeded them."
Commercially, this year's event was the most successful ever - Indesit's order target for the number of units was achieved after day one of the three-day event. By the end of the event, the company had sold 80 per cent more units than its original target. Despite the fact that the event saw fewer accounts come through the door compared to previous years, an additional 50 accounts signed up to be dedicated Hotpoint Centres on the day, which is the highest uptake at any Indesit annual launch activity.
FACTFILE
Client: Indesit
Event: Independent retailer product launch
Group size: 900
Agency: Line Up
Date: 29 March - 1 April 2009
Venues: Evolution, Battersea Park, May Fair Hotel, Oxo Tower
Budget: Undisclosed
Have you registered with us yet?
Register now to enjoy more articles
and free email bulletins.
Register now
Already registered?
Sign in