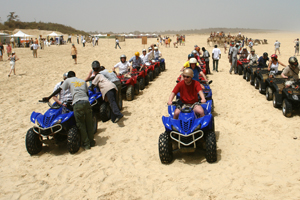 FACTFILE
Client: AXA Bank & Insurance
Event: Incentive
Agency: THA Group, CTA Incentive
Group size: 1,200 (eight different groupings)
Dates: 5 May-3 June 2008
Venue: Senegal
Budget: Undisclosed
THE BRIEF: Following an acquisition, Axa's Belgian arm wanted to reward its 1,200 best performing independent insurance brokers. The THA Group was asked to source an incentive that would appeal to well travelled employees. The event needed to be staggered so that the 1,200 delegates could arrive in eight different groups.
CHALLENGES: Holding what was essentially a luxury incentive in a developing country required a considered approach. "The last thing we wanted was to cocoon them in a five-star hotel," explains THA Group director Pascale Godijns. "We were keen for the groups to have genuine interaction with locals and understand where they were."
SOLUTION: The five-day itinerary included a visit to remote Senegalese villages, where participants were able to learn more about the culture, as well as present writing materials, school stationery and clothes to local communities. This was the most obvious example of "giving something back", but the itinerary was focused on having a strong local element throughout.
EXECUTION: On arrival from Brussels in late afternoon, participants had a two-and-a-half hour transfer from Dakar, the capital to the Lamantin Beach Hotel & Spa in the town of Saly. After an evening to settle in, the next day was spent on the village excursion, followed by an evening meal at the hotel. The third day took in a visit to Lac Rose, the spectacular saltwater lake that also marks the end of the Paris-Dakar rally. Delegates were offered the chance to ride quad-bikes, while others tried sand-painting, 'djembe' drumming and Senegalese games.
"We gave them the next day at leisure before the gala dinner, which was held at the Bandia Nature Reserve," says Joris. Dozens of local musicians, acrobats and performers provided entertainment, while a fashion show featured clothes inspired by Senegal's natural world.
The final day saw participants driven back to Dakar, where they were transferred to the nearby island of Goree. The visit included an exploration of the island's role in the slave trade. After a farewell from a gospel troupe, participants caught overnight flights home.
VERDICT: The programme was named the Most Outstanding Travel Incentive at the 2008 SITE Crystal Awards. "It was the perfect programme for an exciting incentive in an absolutely charming destination," says AXA events and incentive manager Chantal Toussaint. "Participants rated the trip as one of the best they've participated in."
AXA source d'inspiration au Senegal
AXA a choisi le Senegal pour un programme d'incitation luxueux pour 1 200 agents independants. Le programme de cinq jours a inclus une visite culturelle de villages pittoresques et du Lac Rose sale, un diner de gala dans la reserve de Bandia avec musiciens et artistes locaux et une visite de l'Ile de Goree, tristement celebre pour son trafic d'esclaves.
AXA inspiriert in Senegal
AXA entschied sich fur Senegal, um ein Luxusanreizprogramm fur 1.200 unabhangige Makler durchzufuhren. Zum funftagigen Programm zahlte eine kulturelle Besichtigung von abgelegenen senegalesichen Dorfern, ein Besuch des Salzwassersees Lac Rose und ein Galadiner im Naturschutzgebiet von Badia mit lokalen Musikern und Darstellern. Am letzten Tag besuchten die Teilnehmer Goree, eine Insel, die in Verbindung mit der Sklavenhaltung steht.
AXA se inspira en Senegal
AXA eligio Senegal como incentivo de lujo para 1.200 corredores independientes. El itinerario de cinco dias incluyo una visita cultural a remotos pueblos senegaleses, una excursion al lago salado Lac Rose y una cena de gala en la Reserva Natural de Bandia, con musicos y artistas locales. El ultimo dia los participantes visitaron Goree, una isla relacionada con la esclavitud.
Have you registered with us yet?
Register now to enjoy more articles
and free email bulletins.
Register now
Already registered?
Sign in