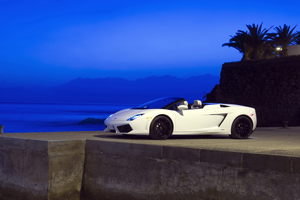 FACTFILE
Client: Lamborghini
Event: Dealer and press launch
Group size: 350
Agency: Vok Dams; Goose
Date: 18-27 March 2009
Venue: Gran Melia Palacio, Tenerife
Budget: Undisclosed
THE BRIEF: Lamborghini wanted a dynamic event to launch the Lamborghini Gallardo LP 560-4 Spyder to 350 dealers and journalists. As the car is a cabriolet, agency Vok Dams Gruppe's Hamburg office was briefed to find a sunny destination with scenic roads for the test drive.
Lamborghini had already worked with Vok Dams and its partner agency Goose to launch the coupe in Las Vegas last year using the tagline 'Always Different. Always Lamborghini' and the same motto was to be used to launch the Spyder. The event aimed to communicate Lamborghini's core brand values: extreme, uncompromising, exclusive, challenging, sensuous and very Italian - in a subtle way.
"It's important that any venues or experiences we create for audiences such as journalists or dealers fully reflect the Lamborghini brand," says Automobili Lamborghini's director of communication and image, Dominik Hoberg. "It's not an easy brief to find hotels and other venues that provide not only luxury but push the boundaries on style and design, with the right surrounding infrastructure such as driving routes and scenic photographic locations."
CHALLENGES: The event needed to take place just after the Geneva International Motor Show, which was held from 5-15 March, so one of the challenges was finding a destination that was not too far away but would still guarantee sunshine. Vok Dams project manager Anna Rimbach says another challenge was dealing with customs to get all the cars and equipment through in time for the event.
SOLUTION: Vok Dams and Goose considered a number of destinations including southern Spain, Portugal, and Dubai, but settled on Tenerife as it offers sunshine in March and good value for money. The new five-star Gran Melia Palacio hotel, which opened last summer, was chosen for the event, and a test drive route mapped out to the top of the El Teide volcano.
Rimbach says the team made sure all the correct paperwork was filled in and kept regular communication with Spanish customs to ensure everything arrived in time for the launch. "It was a challenge but it all worked out in the end," she adds.
EXECUTION: Invites to dealers and journalists were sent out in January directing them to an online site to register. Vok Dams handled guest management but used a flight-booking agency to help coordinate travel. The event kicked off on 18 March and there were around seven groups - five press and two dealer - with a new group of around 40-50 delegates arriving each day from all over the world for a two-night programme.
Guests arrived from midday onwards on day one and were met and transferred to the Gran Melia Palacio, where they had the afternoon at leisure. An informal poolside barbecue was held in the evening and a villa of the hotel complex was decorated as 'Casa Lamborghini', enabling guests to experience the brand, including high-quality merchandising.
For media groups, the second day started with a short press conference. The cars were all lined up outside the hotel ready for journalists in pairs, to drive them to the top of El Teide with a stop for lunch. The dealer groups started day two with workshops giving them marketing and product information on the Spyder, before taking a slightly shorter test drive, also with a stop for lunch. On the second evening, both dealer and press groups attended a gala dinner in the hotel's VIP clubhouse featuring a fashion show that presented fashion from all over the world and Lamborghini's own designs.
VERDICT: "Vok Dams and Goose worked seamlessly as part of our internal team to produce an outstanding event," says Hoberg. "The best accolade for them was the relaxed atmosphere, with everything running so smoothly, while all our media and dealer guests were extremely impressed with the location and the programme. Although scheduled flight services into Tenerife weren't ideal for many of our international delegates, the experience from arrival certainly upheld our theme, 'Always Different. Always Lamborghini'."
Lamborghini a Tenerife
Lamborghini voulait un evenement dynamique pour presenter la nouvelle Lamborghini Gallardo Spyder LP560-4 decapotable devant un parterre de 350 journalistes et concessionnaires. L'agence Vok Dams devait trouver une destination ensoleillee et ideale pour les essais sur route. L'evenement devant avoir lieu juste apres le Salon international de l'Auto, a Geneve, le defi etait de trouver une destination proche qui garantissait un temps agreable en mars. Tenerife et le nouvel hotel 5 etoiles Gran Melia palacio furent choisis. Sept groupes de 45 invites environ participerent a un programme de 3 jours / 2 nuits comportant une soiree barbecue le premier soir, des essais de conduite le deuxieme jour et cloture par un diner de gala et un defile de mode.
Lamborghini in Teneriffa
Lamborghini erforderte eine dynamische Veranstaltung, um 350 Handlern und Journalisten den neuen offenen Lamborghini Gallardo LP560-4 Spyder vorzustellen. Die Agentur Vok Dams wurde beauftragt, dafur einen sonnigen Veranstaltungsort mit einer guten Probefahrtroute zu finden. Die Veranstaltung sollte unmittelbar nach dem Internationalen Auto-Salon in Genf stattfinden. Die Herausforderung war daher, ein naheliegendes Reiseziel zu finden, das im Marz gutes Wetter bietet. Man entschied sich schliesslich fur das neue 5-Sternehotel Gran Melia Palacio auf Teneriffa. Sieben Gruppen mit circa 45 Gasten nahmen an dem dreitagigen Programm mit zwei Ubernachtungen teil, das eine Grillparty am ersten Abend, eine Probefahrt am zweiten Tag sowie ein Galadiner und eine Modeschau umfasste.
Lamborghini en Tenerife
Lamborghini queria celebrar un evento dinamico para el lanzamiento del nuevo Lamborghini Gallardo LP560-4 Spyder ante 350 concesionarios y periodistas. Se pidio a la agencia Vok Dams que encontrase un lugar con sol y una buena ruta para la prueba en carretera. El evento se debia realizar inmediatamente despues del Salon Internacional del Automovil de Ginebra, de modo que el desafio consistia en encontrar un lugar cercano donde ademas el buen tiempo estuviese garantizado en el mes de marzo. Se eligieron Tenerife y el nuevo hotel de cinco estrellas Gran Melia Palacio. Siete grupos de unos 45 invitados participaron en un programa de dos noches y tres dias, con una barbacoa la primera noche y una prueba del vehiculo el segundo dia, seguida de una cena de gala y un espectaculo de moda.
Have you registered with us yet?
Register now to enjoy more articles
and free email bulletins.
Register now
Already registered?
Sign in