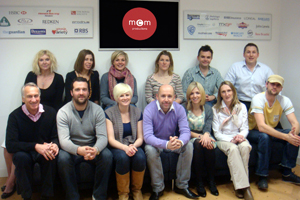 Location London and Southampton
Staff There are 18 in London and two in Southampton.
What's the lowdown?
This Hammersmith-headquartered agency is growing despite the recession and recently signed a partnership with a top London event space. "We have been added to the Natural History Museum preferred supplier list, which is the start of something very exciting," says chairman and creative director Neil Crespin.
How's business?
MCM Productions has seen turnover increase to £3.2m in the past financial year, its fifth year of growth. Recent client wins include HSBC, L'Oreal and the Dogs Trust.
What is your financial target for this year?
"We aim to increase our profitability by 20 per cent during 2009," says Crespin.
What's your business plan for 2009?
MCM will focus on capitalising on additional business within its existing client base, plus winning new business. "We will also be reducing, where possible, our fixed costs and controlling and negotiating with key suppliers to reduce our cost of sales," adds Crespin.
What events have you organised in the past year?
Highlights from 2009 so far include a three-day conference at Celtic Manor for Boehringer Ingelheim; a 24-date roadshow for John Lewis; three Urban Talent events for Redken; the Observer Food Monthly Awards; and an integration conference for Abbey Santander.
Which sectors have potential in the recession?
"Historically, pharma has always been a resilient sector in downturns and our relationship with existing clients echoes this. We are seeing positive trends too with our retail clients who seem to be spending with us but perhaps more cautiously at the moment," says Crespin.
Have you seen any new trends emerging from corporate clients?
"Not so much a change in the type of events, but more in the way they are examined and commissioned," says Crespin. "There seems to be more emphasis on ROI and a challenge to make the outputs engaging but prudent."
What are you pitching for currently?
"Some pitch work has come to fruition over the past few weeks, with banking and retail both seeming to need good value offerings," says Crespin.
Are you open to the idea of acquiring another agency or being acquired yourselves?
Having recently acquired one of its suppliers, the company is comfortable with its portfolio of business offerings around video, events, graphics and AV. "We have an exit strategy for the business but it is a longer term vision that should see us well out of the current trading climate long before we gear up for exit," says Crispin. "However, never say never."
What changes are you seeing in corporate business due to the economic climate?
"A client's need to justify its spend is, I think, something that will only get more stringent over the next 12 months," says Crispin. "Certain industries and sectors that we work alongside will have to wait at least a year before they feel comfortable with 'public' spending on gala dinners and awards ceremonies, and anything that used to be filed under 'fun' will now either be put on hold or heavily disguised under a business umbrella. Our clients aren't at the stage of wearing hairshirts, but there is a level of corporate discomfort to be endured before things return to a level close to normal.
To see inside MCM Productions' office, tune into C&IT Cribs, at: www.citmagazine.com/cittv
Have you registered with us yet?
Register now to enjoy more articles
and free email bulletins.
Register now
Already registered?
Sign in