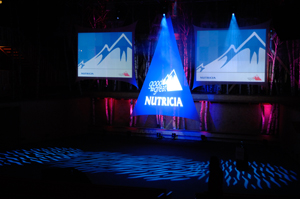 The Brief: Children's and medical healthfood specialist Nutricia takes its entire 200-strong UK workforce offsite once a year for an event combining key business messages with an incentive. The 2009 summit was particularly important as the firm had recently been bought by Danone, and the new parent company's values had to be harmonised with Nutricia's to create a clear corporate message. The result was 'Good to Great', a three-day event at the Evian Royal Resort in France.
Challenges: The resort's main event area, the Grange Au Lac, was originally designed for concerts and has capacity for 2,000, meaning the group could be dwarfed by the space. Nutricia Baby Food national medical sales manager Cate Russell also warned Lucas "this was the most accident-prone group she had met".
Solution: "We sectioned off half the hall and used drapes to create a more intimate atmosphere," says Kristin Lucas, project manager for Grass Roots. As far as mishaps went, one person knocked themselves out and there was also a cut knee, but Lucas says good preparation meant any incidents were dealt with promptly.
Execution: Guests arrived at Geneva from 10am to 2pm, where they were met and transferred to the venue. A conference session ran from 4-6pm, before guests came together for an informal "giant fondue" at the resort's golf clubhouse. The second morning was given over to a plenary session, followed by a choice of activities that included snowshoe walking, a spa afternoon and cookery lessons. In the evening, a gala dinner was held in the resort's Les Fresques restaurant.
On the final morning, delegates were split into groups for the Danone Values Workshop, and were given video equipment and instructed to select one of the Danone's core values and create a short film to illustrate it. The films - all of which could be accessed on a website post-event - were judged by the management team and a short Oscars-style ceremony took place during lunch, before the group headed back to the hotels and on to their respective airports.
Verdict: Russell says - "The feedback from our event is that it was the best ever. Grass Roots did a great job creating a really inspiring event. The planning and execution of all elements was excellent."
FACTFILE
Client: Nutricia
Event: Conference and incentive
Agency: Grass Roots Eventcom/Grass Roots Live
Group size: 200
Date: 10-12 February 2009
Venue: Evian Royal Resort, France
Budget: Undisclosed
Have you registered with us yet?
Register now to enjoy more articles
and free email bulletins.
Register now
Already registered?
Sign in