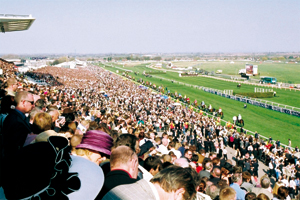 With company branding emblazoned across swanky boxes at high-profile sporting events and concerts, corporate hospitality is among the most conspicuous forms of client courtship.
But its association with Champagne and glamour has led to many corporates viewing it as a frill that is best removed from the marketing mix, amid an economic climate of taxpayer bailouts and redundancies.
This attitude has undeniably damaged the industry, which, according to market research firm MBD's UK Corporate Hospitality Market Development report, was worth £1bn in 2008. The report forecasts that the market's annual growth will slow from seven per cent in 2006 to between one and three per cent in the next few years.
The effects of the slowdown have already materialised. "The Cheltenham Festival, which took place in March, is an excellent barometer of the market," says Chris Bruton, chief executive of corporate hospitality company the Cavendish Group. "And the figure it released this year was a 15 per cent decline."
Budget freezes are one of the causes of the slowdown. AOK Events hospitality director Ben Eustace says clients historically booked hospitality for the likes of the Six Nations rugby tournament between September and December. "However, at that stage of the recession nobody knew how it was going to affect them, so they just froze their budgets," he says.
Image concerns
But the real killer is perception. Corporate paranoia about being outed for treating guests to jollies has led to companies axing all hospitality. "Perception is the biggest fear right now," says Top Banana Team managing director Pete Saunders.
The impact of this paranoia is expected to come to a head in the coming months. "There is likely to be a drop in corporate bookings for hospitality events this summer, because brands don't want to highlight their spend on entertaining," says Justine Clement, managing director of agency Unmissable.
The banking and financial sectors have cut their hospitality programmes most severely. "Industries in the political spotlight have cut back on this type of marketing," says P&MM Events & Communications executive director Nigel Cooper.
Eustace says that the law sector has also reduced entertaining. "I have contacted the top 20 law firms over the past few weeks and every one of them told me they cannot be seen to be spending money," he says.
This attitude is already hitting some venues. Newbury Racecourse head of sales Nicola Butler says that in September the usual repeat clients, for the first time, opted not to rebook for the following year.
Corporates that are strapped for cash are leaving bookings until the last minute to squeeze maximum value from suppliers. "Clients are getting more savvy as to the deals that can be done," says Eustace. "Some venues are offering half-price packages just a week before an event, because clients are not booking months in advance."
Shift in emphasis
Hospitality events that are going ahead are very different to those held before the recession. Agency DRP Group managing director Dale Parmenter says corporates have deglamourised hospitality by holding more daytime and less lavish events.
At racing-based hospitality events, Parallel Blue managing director John Denton has noticed that corporates are merely buying entry tickets for guests, rather than full hospitality.
Indeed, keeping hospitality low-key is crucial. "The biggest change we've noticed is that companies used to get involved in ambush marketing and have their brand name emblazoned everywhere," says Bruton. "But now the pendulum has swung, and none of them want their names out there."
Many corporates are aware of the power of hospitality as a form of marketing, so rather than pulling it, they are adding an educational element. Karen Johnston, vice-president of business development at BCD Meetings & Incentives for Europe, says the agency is encouraging corporates to use hospitality to enable clients to experience the brand through bespoke events.
"Our clients are focused on hospitality's ROI, so it's more important than ever to focus on the experiential and educational elements," she says.
Adding Value managing partner Tina Morris says the agency has ensured that clients' hospitality events have gone ahead by boosting business content: "We've included a business focus, such as a training session or an industry speaker."
For some corporates, however, it is business as usual when it comes to their programmes. "We recently took a group to the Grand National and they didn't modify it because they wanted continuity with their clients," says Denton.
And the few firms that are thriving in the recession have upped their game and are using hospitality to 'ambush' their competitors' clients, according to Clement. "A few companies that are doing well are schmoozing the potential clients their competitors can no longer be seen to be entertaining," she says.
Casting the net wider
Many suppliers are adapting to the recession by diversifying. Butler says Newbury Racecourse is successfully attracting groups of colleagues for outings funded out of their own pockets, as opposed to their employer's. And AOK Events is enticing corporates to bring their families to hospitality attached to Peter Pan.
Suppliers are far from pessimistic about the downturn, viewing it merely as a brief stall. "I think I will make budget - the same as last year," says Butler. "January and February weren't fantastic but we will make it up and exceed budget in April to June."
Similarly, Keith Prowse commercial director Andy Vinsen is targeting growth in 2009. "At worst we will stand still, and at best we will improve by five to ten per cent," he says.
If hospitality suppliers can hang in there, they are destined to do well because demand is projected to grow 20 per cent by 2013 to reach a value of £1.3bn, according to the UK Corporate Hospitality Market Development report (www.mbdltd.co.uk).
"I have heard people say corporate hospitality is dead," says Bruton. "Well it isn't - it's just difficult at the moment."
TOP TIPS - How to keep corporate hospitality low-key
Select your venue carefully. Choose one that gives you sole occupancy or is located off the beaten track, such as a warehouse.
DRP Group managing director Dale Parmenter
Consider using the UK for events that were previously overseas. There are fabulous properties in the Cotswolds and elsewhere that are happy to negotiate on rates.
Adding Value managing partner Tina Morris
Combine hospitality with an educational element, such as a meeting at a racecourse prior to the race.
Newbury Racecourse head of sales Nicola Butler
Choose lower-profile events such as the Windsor races instead of the likes of Ascot - you get more bang for your buck.
Parallel Blue managing director John Denton
Seek out decision makers, and save money by hosting smaller events. Instead of inviting several contacts in one company, invite the key decision makers.
P&MM Events & Communications executive director Nigel Cooper
Use debenture tickets and the debenture lounge at Wimbledon - it allows you to entertain guests without having your company logo in the public eye.
AOK Events hospitality director Ben Eustace
Host events within a 100-mile radius of your guests' homes to save on transport and accommodation.
P&MM Events & Communications executive director Nigel Cooper
Have confidentiality agreements in place with all suppliers. Make sure the event is anonymous in terms of branding, and your guests are aware of it.
DRP Group managing director Dale Parmenter
CORPORATE LOWDOWN
Martin Lines, marketing director, Nestle Professional
What type of hospitality events have you run in the past year?
We ran golf days, two incentive programmes to Iceland and Monte Carlo, plus four key industry-related event sponsorships. These were all part of a long-term strategy that ensures we keep a good profile in the industry, and allows us to build long-term relationships with our customers.
What do you have planned for 2009?
As one of the 12 founding partners of The O2, we use the venue as our primary vehicle for hospitality. We have a suite there that is for our exclusive use.
With such a great choice of acts available, ranging from music and sport through to comedy and opera, we are able to bring customers, suppliers and partners to share with us the world's most popular entertainment venue.
Also, we are a partner with Wembley so we can use that venue as a total contrast. Working in this way with our customers, we are able to ensure that our hospitality spend is maximised, with little need to go elsewhere.
We also participate in a number of industry events and dinners.
Why is your suite at The O2 a good investment?
The O2 has proved to be a real crown jewel when it comes to offering clients something different. There is no other indoor arena like it in the UK, if not Europe, and we use it for both internal staff incentives and external customer client entertainment.
As an exclusive partner, we are also given the chance to showcase our products to customers so they can see how they too can share in our brand success. Our relationship with AEG has meant we can offer a whole range of additional benefits that no other company in our industry can. For me, it has to be the best sponsorship partnership I have ever worked on, and that includes working on the Grand Prix in a previous role.
What changes have you made to your programme in the recession?
By having partnerships with the likes of The O2 and Wembley, we have been able to secure long-term value, so the recession has not affected our investment levels in the short term.
Keeping close to our customers and partners is even more vital in tough times, and we will continue to look forward to ensure that we make the most from our strategic partnerships.
Have you registered with us yet?
Register now to enjoy more articles
and free email bulletins.
Register now
Already registered?
Sign in