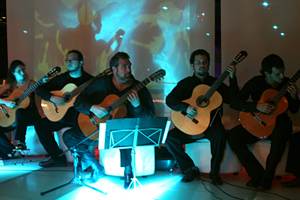 The Brief As part of a three-day conference in Barcelona, attended by senior HR and finance directors of multinational firms, HR consultancy Hewitt Associates wanted to host a gala dinner. The client briefed DMC Ovation to arrange an innovative and memorable gala night, rich with unique experiences that should include finger food and entertainment.

Challenges "Hewitt wanted something contemporary, creative and visionary," explains Ovation account manager Thomas Stecher. "It wanted the event to be held in a modern yet affordable venue near to the Hotel Arts, where the group was staying, so everyone could walk there. Many of the more affordable venues near the hotel are traditional and the most suitable venue for the group was Opium Mar Beach Club, which is expensive to hire."

Hewitt also requested finger food that would actually fill people up. Getting these elements to fit within budget was a challenge.

Solution Ovation successfully managed to negotiate a good price with the venue, Opium Mar Beach Club, a stylish and spacious venue with a beachfront location. "We have lots of buying power in Barcelona and we have a good relationship with suppliers so we were able to make it affordable," says Stecher.

Execution The group were met at Hotel Arts at 7pm, before being led to Opium Mar Beach Club via a short stroll along the beach. A welcome reception was held on the candlelit boardwalk, where delegates were treated to nitrogen-infused cocktails that gave off a mist. Traditional finger food was served first featuring dishes from all over Spain. This was followed by some molecular cuisine, made famous by Spanish eatery El Bulli and the UK's Fat Duck.

"The chefs and waiters didn't just hand the food over, they explained its history," says Stecher. "The presentation of the food was inspired by Dali and Gaudi. The group were made up of curious, forward-thinking people so it was great for them to interact with the catering staff."

Images of Gaudi tiles were projected onto the venue's ceiling and floor to create a contrast between old and new. Entertainment came in the form of flamenco dancers, who appeared through a smokescreen and had Salvador Dali paintings projected onto their dresses. A DJ provided the music and the evening culminated in a performance by 15 Flamenco guitarists.

Verdict "The event was incredible," says Hewitt Associates European brand manager Helenka Sosna-Rose. "There was fantastic attention to detail from the quality of food that looked like pieces of art, to the beautiful dancers. We didn't just want another traditional night out, we wanted to offer our guests something different - and that was what we got. We had very positive feedback from our clients."
Company Hewitt Associates
Event Gala dinner/conference
Group size 130
Agency Ovation
Date 13 October 2008
Venue Opium Mar Beach Club
Budget Undisclosed
Have you registered with us yet?
Register now to enjoy more articles
and free email bulletins.
Register now
Already registered?
Sign in