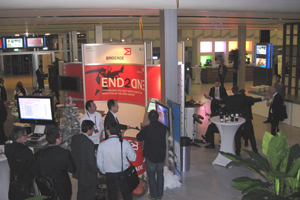 Client: Gartner UK
Event: Conference and exhibition
Group size: 1,100
Agency: In-house
Date: 5-7 October 2008
Venue: RAI Convention Center

Brief: In 2008, global IT research and advisory company Gartner held both its annual Data Center Summit and Business Intelligence Summit series in Amsterdam. The summits consist of Gartner and external guest-speaker presentations and one-on-ones between delegates and Gartner analysts, running alongside an exhibition.

Challenges: The Data Center Summit required a space consisting of a plenary room large enough to hold an audience of 800, three session rooms for up to 200 each, as well as 12 smaller spaces. In addition, there needed to be an exhibition area for 30 sponsor booths. Catering for the duration of the event was required, along with a separate area for crew catering.

An affiliation with nearby hotels was also a requirement, as Gartner negotiates a room block rate for delegates. According to Gartner senior event planner Bernadette Johnen, finding a venue for the EMEA Summit is always a challenge. "Conference centres aren't always a viable option. Many are too big and can't offer smaller meeting rooms," she says.

Solution: The RAI Convention Centre in Amsterdam is divided into sections, so although extremely large, it would work when sectioned off. It has a large auditorium for the plenary sessions and separate break-out rooms with moveable walls, providing good sized session rooms.

"The ability to combine the areas outside the auditorium allowed for a large show floor and for the sponsor booths to be placed in a space that encouraged delegate flow and networking between sponsors and delegates," says Johnen. "The RAI also has a Hotel & Travel Service which has to be used for hotel room blocks. This is advantageous in that Gartner only had one hotel contact to communicate with."

Execution: The summit began with an opening address by the summit chairs, followed by a Gartner keynote, guest keynote and panel discussion. Thereafter, presentations were broken out into four tracks each covering different themes. The exhibition was open from the first morning to mid afternoon on the second day, with lunch and refreshment breaks held there for delegates, along with a networking reception on the first evening.

Verdict: Johnen admits that using a new venue was a challenge but the EMEA Business Intelligence Summit had been hosted there in January 2008, so teething problems had been overcome and a good working relationship had been struck up between client and venue. "The excellent teamwork between the Gartner events team and the RAI was reflected in the positive feedback received from both delegates and sponsors," says Gartner vice-president, world-wide event production Libby Donovan.
Have you registered with us yet?
Register now to enjoy more articles
and free email bulletins.
Register now
Already registered?
Sign in