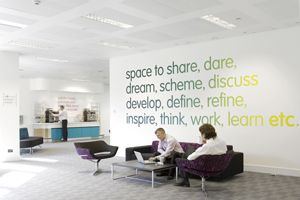 With corporate brands hyper-sensitive about holding meetings in venues that might raise the collective eyebrow of shareholders and the public at large, purpose-built venues are in a good position to gain significant market share as the recession bites. Already, some of these business-focused venues say they are winning business from luxury hotels and resorts. But many others report that competition from hotels is heating up as the fight for shrinking corporate meetings business intensifies.
Etc Venues head of marketing David Owen says turnover and profits are up about 20 per cent year on year. Its newest venues, Dexter House in East London and Maple House in Birmingham, have performed particularly well - the latter is 100 per cent ahead of targeted revenue.
Bedfordshire-based Wyboston Lakes is also performing well. Sales and marketing director Clive Bache claims last year was the best in the company's history. And Anthony Lishman, executive director of venue consortium Conference Centres of Excellence (CCE), says that 2008 was a record year for its 37 members - of which roughly half are purpose-built. However, the group is starting to feel the impact of the recession: "Since January this year, bookings are down an estimated ten to 15 per cent," says Lishman.
He adds that CCE is starting to encounter increasing competition from hotels that are targeting corporate meetings business by offering cheaper rates. "Hotels are becoming more competitive in the sector, particularly for small meetings and training events," says Lishman.
As well as facing tougher competition, some purpose-built venues are losing business from industries on which they have relied in the past. "We have a lot of clients in the financial services sector and that business is shrinking," says Owen. "But we are replacing that with other business, such as the public sector, which likes what we have to offer as they don't feel they are being frivolous."
CCE has also identified the public sector as a potential growth area: "We have evidence of government bodies and local councils saying they have to go to a purpose-built venue because it sends the right message to both staff and the public," says Lishman.
Openings in reserve
The downturn has not yet hurt purpose-built venues too badly, and they have, so far, largely escaped the redundancies that have hit the hotel sector. Some companies are even contemplating opening new venues and investing in refurbishments despite the tough trading conditions. Etc Venues is among those that are open to expanding their property portfolios. "We're in the fortunate position that we have a fund in place to draw on when we need it," says Owen. "Plans have slowed a little but we are still looking actively to open new venues."
The sector is also working to ensure continued profitability not only by targeting non-traditional industry sectors but also through actively courting new clients. To this end, Etc Venues has revamped its website, while a number of CCE venues are offering more flexible cancellation terms. "We're also promoting to sectors such as banking, government and the NHS that previously used hotels and can't be seen wasting taxpayers' money," says Lishman. "We're telling them we offer a dedicated learning environment that will send the right message to stakeholders." Meanwhile, Wyboston Lakes intends to boost client awareness by attending several trade shows this year.
Opaque costing models
Agency-side buyers are reporting renewed popularity for purpose-built venues among corporate clients, but say that they could win more business still if they made a few tweaks to their offer. "Some of these venues haven't had a great relationship with agencies - they've been difficult to deal with because of unclear and complex costings that make it awkward to compare value between venues," says Conference Care director Chris Peacock. "Pharmaceuticals are increasingly using them as it's a safe bet you can hold an event there without it being perceived in a negative light, but venues could do better if they put more transparent packages together."
Powwow managing director Matt Edgcumbe says the agency has been pitching a growing number of purpose-built venues to corporates, and estimates that client uptake has grown up to 25 per cent in the past year. "They're more receptive to the idea of using them," he says. "But there's still a perception that they're a bit utilitarian."
Phoenix Partners director Rachel Hargrave says that in the third quarter last year, image-sensitive corporates suddenly became more open to using purpose-built venues and some are specifying them in briefs. "But there are concerns about the choice and their inventiveness or flexibility with food," she adds.
It is also too early to tell how this surge in interest will be converted in the long term. Previous economic downturns fail to provide an indication of how purpose-built venues will fare. "In the past, companies tended to contract venues for five to 15 years, but these kinds of deals don't exist any more" says Lishman.
Bache says that Wyboston Lakes previously weathered storms by offering value for money rather than cutting prices, and many suppliers agree that price-slashing will do more harm than good. "At the back end of the recession, you're better placed to add value rather than drop prices," says Lishman.
Nonetheless, if the recession deepens it is anticipated that some venues will be forced to cut prices to survive. Of these, Lishman predicts those new venues without an established client base will be hit hardest.
However, many venues are positive about 2009 and are forecasting the same level of profits as 2008, if not modest growth. Owen says Etc Venues is forecasting revenue growth of somewhere under 20 per cent in the year to June 2009. And if purpose-built venues can communicate their value for money, no-frills nature to corporates, they seem likely to come out on top.
Avenue Events sales director Helene Kemsley anticipates that the agency will this year put more business into purpose-built venues than in the past. "As clients remove the frills and events become more business-focused, I would think business will be healthier than normal for these venues," she says.
Have you registered with us yet?
Register now to enjoy more articles
and free email bulletins.
Register now
Already registered?
Sign in