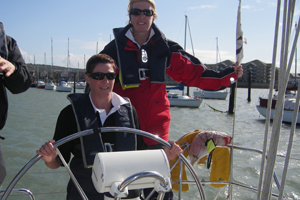 Client: Tates
Location: Port Solent, Portsmouth
Group size: 52
Dates: 13-15 July and 17-19 August 2008
Event overview: In search of a team-building event with a difference, Kerry Hunt, training manager for Tates, the largest independent convenience store operator in the UK, approached Sunsail, which provides team-building sailing events in Portsmouth. "I wanted something that most people wouldn't have done before and something that could be done by people of all ages and abilities," she says. Hunt booked two events - one in July and a second in August - so stores wouldn't be left unmanned while its 52 managers were away for the two-day trip.
On arrival, the group had their first taste of the activity, as they slept the night on board the yachts. The next morning, they were up early for breakfast and sailed the yachts across to the Isle of Wight for lunch. Employees then raced back and there was a prize-giving ceremony on dry land. Unfortunately, bad weather in August limited the second group to racing on the Solent. Afterwards, guests retired to the Premier Inn for dinner and a comfortable bed. The final day was spent analysing what they'd learnt from the team-building experience.
Verdict: "As most of our managers work remotely it was good to get people working together as a team and put them outside their comfort zone," says Hunt. "Even now, many of the managers are still talking about it."
Have you registered with us yet?
Register now to enjoy more articles
and free email bulletins.
Register now
Already registered?
Sign in