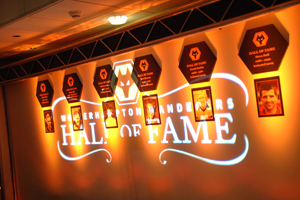 DRP Group is defying the recession by securing accounts with new clients Wolverhampton Wanderers FC and field-marketing firm The Network.
Championship leaders Wolves appointed the agency to organise the launch of its kit and a new sponsor, as well as an end of season awards ceremony for some 700 guests in April.
The appointment follows DRP Group running the club's inaugural Hall of Fame Dinner earlier this year, after a competitive pitch.
The club's head of marketing and communications, Matt Grayson, said: "The Hall of Fame Dinner was lauded as Wolves' best ever dinner. It was an easy decision to carry on the relationship to our biggest event of the year - the club's End of Season Dinner, which takes place at the Telford International Centre on 30 April with 600 guests."
DRP's work with The Network comprises a rolling contract to run roadshows throughout the UK for travel tourism clients. DRP Group has about four staff working full time on the project.
Managing director Dale Parmenter said the roadshows are aimed at travel agents who would sell on the destination or product, and comprise an educational component, party and gameshow. "There are 20-30 roadshows already planned and it's constantly growing," he said.
The Network business director Sally Morgan added: "Our recent clients include tourist boards and tour operators that want to promote destinations and products to travel agents throughout the UK to develop new contacts and business."
DRP has also unveiled an investment programme for 2009. Parmenter said the agency has signed a deal to expand its Worcestershire office by 930m2. It is boosting its staff with an additional office manager in its Covent Garden office, and investing more than £400,000 in marketing and £700,000 on equipment.
Parmenter said DRP Group made a net profit of £900,000 in 2008, and he anticipated the 2009 figure would be slightly lower than that because of the recession. However, he forecasted net profits of between £1.2m and £1.3m for 2010.
"Because of the economy, we set targets lower and we almost said let's forego margin to go for market share, so we are investing in marketing and PR to create awareness," said Parmenter.
Have you registered with us yet?
Register now to enjoy more articles
and free email bulletins.
Register now
Already registered?
Sign in