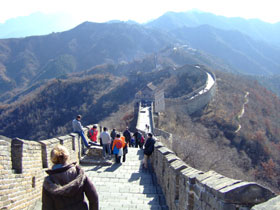 Company: Siemens Enterprise Communications
Event: Incentive
Agency: Eventwise
DMC: Destination Asia
Group size: 51
Date: 25-30 November 2008
Venue: The Regent Beijing
Budget: Undisclosed
The Brief: Technology firm Siemens Enterprise Communications needed a motivational incentive programme to stimulate internal sales staff for 2007/8. The firm had previously travelled to destinations such as Oman, South Africa and Argentina.
Challenges: Sourcing a setting to match those of previous trips was paramount. "We'd found that city trips worked better for this group, and the fact that the Olympics were coming up in Beijing certainly helped," explains Eventwise account director Wendy Cutliffe. The qualifiers were announced in mid-October, so the dates of the trip were left slightly later than usual in order to arrange visas. The only hitch in the early run-up concerned the planned gala dinner venue, which was due to close for renovations.
Solution: The dinner venue came back into operation earlier than anticipated, meaning the full five-day itinerary could go ahead as intended. Eventwise and the client employed local DMC Destination Asia to assist in the planning stages, which helped the programme incorporate trips to the Bird's Nest Stadium and Water Cube, which had only recently started offering tours. "It was actually one of the highlights," says Cutliffe.
Execution: An afternoon flight from Heathrow got the group to Beijing for Wednesday morning, and following lunch, there was a pedi-cab tour of the city's hutong dwellings. Dinner at the China Club was accompanied by Chinese entertainment. The following day saw a tour of some of the city's key sights, including Tiananmen Square and the Forbidden City, before an evening at leisure allowed the group to explore Beijing.
The next day was largely given over to free time and a tour of the Olympic venues, with dinner at the Philippe Starck-designed LAN Club.
Saturday was dedicated to visiting the the Mutianyu section of the Great Wall. Lunch was at the Schoolhouse, a sustainable tourism project. In the evening, a farewell gala dinner took place at the Dong Yuan Theatre.
Verdict: "It was a really cost-effective trip and all arrangements, logistics and planning were down to a fine art," says Siemens Enterprise Communications event manager Janet Fensome. "Feedback from the delegates has been fantastic."
Have you registered with us yet?
Register now to enjoy more articles
and free email bulletins.
Register now
Already registered?
Sign in