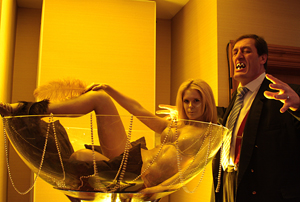 Company: Confused.com
Event: Partner dinner
Group size: 150
Agency: Freshwater
Date: 13 November 2008
Venue: Cardiff Marriott Hotel
Budget: £50,000
The brief: The client wanted to refresh its annual partners event for financial associates, and decided on a themed, black-tie dinner. The key requirements were a three-course meal, entertainment and gifts for all the guests. "We wanted a landmark event, but nothing too corporate, to get key messages across and build relationships," says Confused.com PR executive Caroline Spindlove Hammond.
Challenges: The first challenge for the agency was to convince partners based in London and the South East to travel to Cardiff. "Delegates had to cover their own travel expenses, so we had to give them a good reason to come," explains Freshwater director Antony Jones. Several entertainment elements were included and timings were very tight, which provided logistical challenges.
Solutions: The Cardiff Marriott was chosen both for its central location and because it has experience of hosting big events. Freshwater suggested a Bond theme to coincide with the release of Quantum of Solace and to make the event more enticing to partners travelling from further afield.
Jones had a team of eight working on the event and communi-cation was key: "We started talking at the end of July and, by October, were going through checklists on a daily basis," he says.
Hotel general manager Derek Harvey and senior event manager Vicky Toye ran through the event with the hotel's operations team to overcome potential logistical challenges - for example, the client wanted to park an Aston Martin at the hotel's front entrance.
Execution: Guests started arriving at 7.30pm and a were greeted by Jaws look-alike before being served shaken-not-stirred Martinis. Tables were decorated with golden gun ice sculptures, while entertainment included a Shirley Bassey impersonator. After dinner, guests were given branded money for casino games, and were presented with Confused.com-branded Martini glasses to take away.
Verdict: The feedback on the night was very positive and the client felt it was smooth and unrushed. Spindlove Hammond says: "Freshwater offered constructive criticism. It was nice we could trust their judgement."
Jones adds: "I think preparation and planning was our strength on this event."
Have you registered with us yet?
Register now to enjoy more articles
and free email bulletins.
Register now
Already registered?
Sign in