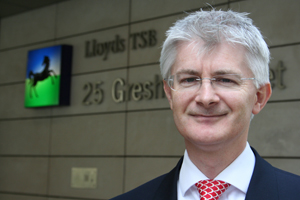 Tell us about your role
I've been carrying out this role full time since June 2007. Prior to that, I was managing director of our transportation department with added responsibility for sustainability. The bank as a whole has always had a robust CSR policy - for example, we offset some of our profits to contribute to our charitable foundation - but with elements such as climate change, the focus has increased significantly.
Describe Lloyds TSB's sustainability policy
We have a strategic six-step process in place. The six areas include resource efficiency, stakeholder engagement, risk management and new business. Each is examined along the three tenets of us as a business, the communities we operate in, and the environment.
Our staff were keen to contribute to things like community projects and this provides the opportunity to do that. Also, there are clearly environmental benefits and cost benefits for the business too. It's good for morale and it's good for recruitment and retention - of staff and customers.
How has the policy affected your event marketing strategy so far?
We have been working with events agency Organise This to make a number of our events BS8901-compliant. This included our three-day Share Fair conference in 2008 that saw 3,000 people gather at Earl's Court. One of the main ideas was to communicate the wider message of sustainability - as a business, in the community and in regard to the environment. We wanted people from the business to get to know the business better and cross-fertilise ideas.
How is that impacting upon external communications?
People do need to see the link to the wider business and our work in the community is a key part of that. We are sponsors of London 2012, which is based on bringing the Olympic Games to the community and that is the message we will be promoting. On a business-to-business level, we are one of the main sponsors of Business In the Community and we will be helping promote sustainable practices to small businesses.
Do you envisage making all your events BS8901-compliant?
That is a possibility. We have had a huge amount of positive feedback - we are walking the talk and we want to be seen to be doing that. You cannot do these things in isolation.
What do you say to those who see sustainability as an excuse for cutbacks?
Well, everyone, including the event industry, needs to be innovative in their communications to reduce things like environmental impact. It could be that holding more regional events is the solution or using teleconferencing more. The events industry needs to think about the benefits and the costs and the impacts. People have to be brave now and ask themselves whether, predominantly with consideration to environmental impact, if an event is the right thing to do. However, really I see it as not necessarily doing fewer events, but different events.
Can the sustainability ethic be continued in the current bleak financial climate?
Personally, sustainability on all levels is becoming part of every process of the business at Lloyds. This year will be hugely challenging for every business, but as a company we remain optimistic. Whenever there are challenges there are also opportunities and this is how this should be seen - and we are already seeing businesses taking advantage of that. This year, I want us to continue the progress we have made so far, so that sustainability is seen as something that has become a fundamental part of who we are and what we do.
TURNER'S TOP TIPS
Choose a destination and venue that can support your sustainability initiatives;
Ask suppliers if there is a sustainable option;
Consider the materials that you will be producing for your event. Question if you really need them and if so find a use for spare materials after the event.
Have you registered with us yet?
Register now to enjoy more articles
and free email bulletins.
Register now
Already registered?
Sign in