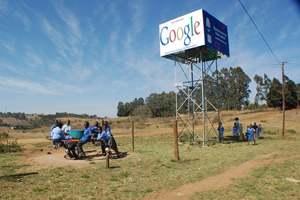 It started with a conference ...
After inviting One Water to exhibit at its Zeitgeist 2006 conference, Google decided to support the collaborative project that raises money to install water pumps across Africa through the profits generated from selling One Water bottled water in its UK and Ireland offices.
Through this, the search engine giant had helped to fund the installation of two pumps, including one at the Kaphunga school in a remote area of Swaziland. Google decided to send a small team out to visit the school to see first hand the benefits the pump is giving to the local community, and see how Google could create further events around the initiative.
They were also given the task of helping the school with another project, this time planting a vegetable garden so the children would have fresh fruit and vegetables to eat - currently they get by on rice and cornmeal - and to see how the company could continue to support One Water and the school in future.
Team building and fact finding
Google head of events (EMEA) Vish Patel, head of catering Jim Glass and executive chef for the London office Adrian Evans were the chosen team, along with several of their family members and Matt Nash from One Water.
The team flew to Johannesburg on 26 September and made the six-hour journey to the Kaphunga school in Swaziland by road. They spent the first few days on a fact-finding mission, touring the local communities to see other pumps in action, find out what crops would grow and planning the vegetable garden project.
Reality bites
On arrival at the school, the trio found what they thought would be a small vegetable patch was in fact a large field. "We were shell-shocked when we saw it and knew there were limits to what we could do as a party of six, and we were very conscious that when we walked away, what we produced should be sustainable for the future," says Evans.
After spending the first part of the week carrying out research, the second half was spent digging the land and working with the children to start planting. "We brought thousands of seedlings, which meant the locals could take any excess stock they didn't use to sell at the local markets," says Patel. Crops planted included spinach, green peppers, corn and fruit trees.
Community liaison
For the vegetable garden project, the team worked with the local community, getting advice on exactly what was required. "We tried to give the school responsibility and ownership of the project, getting the teachers and children involved so we could create something sustainable that they could continue," says Patel. Evans adds: "To make sure we invested in the right equipment, we spoke to local people and understood what was really needed rather than what we assumed was required."
Reaping the rewards
"Personally, I feel very rewarded by the trip in terms of what we were able to accomplish and what Google was able to do to help the school," says Glass. "We want to do more, not only with One Water but also specifically with the Kaphunga school."
Patel adds: "It was great to see how the pump had benefited the school - attendance has already increased massively because they have a water source and once the vegetables are ready, the children will get some proper nutrition." He is now looking at ways of incorporating the One Water initiative into his events programme. This could include fundraising projects and motivational trips to the school in Swaziland.
Long-term commitment
One of the challenges for the team going forward is that as part of a wider Green Google initiative, the company is cutting down on using bottled water in its offices, so the team is looking at other ways they can still support the One Water project. The team was also keen not to visit the school and help on just the one scheme and then lose contact - they wanted to build an ongoing relationship with the school and community.
To get round the issue of using less bottled water, Glass says he is working closely with One Water on new products it is planning to launch this year and are considering other fundraising initiatives so Google can continue to support the project.
FEEDBACK - Post Event Reaction
Google head of events (EMEA) Vish Patel (VP), head of catering Jim Glass (JG) and executive chef for the London office Adrian Evans (AE) reflect on their epic trip.
What was the highlight of the trip for you?
AE: From my point of view, it was great to be involved in creating something sustainable. Seeing how much of a difference something so small can make was great, and it was wonderful to see how happy the children are.
JG: Seeing the expressions on the children's faces and knowing how much they appreciate what we have done to help.
VP: One thing that really made an impact on me was that Google is seen in a completely different light over there. Everyone around the world knows us as a search engine, but when we arrived at the school, we had Google T-shirts on and the children all ran towards us shouting "Google", but it's not because they've been online and used our search engine, it was because the water pump we funded had a big Google logo above it, so they associate us and the brand with those who gave them water. It was very humbling.
What's next?
VP: We're in discussions with the HR director and have been charged with coming up with ideas of how we can get other Google employees involved and turn it into a wider CSR initiative within the company. We currently have Google Serve, where employees throughout the EMEA region can go out and work on local community projects during the week. The school project is possibly something we could turn into a Google Serve project and send other employees out there, or as an incentive/motivational trip. There are lots of opportunities to get our workforce involved with projects to help the school and community.
JG: We're also talking to One Water about potential fundraising projects, for example, we're considering arranging a three- to five-course dinner and inviting Google employees to come along with their families. We'd charge a small fee for the dinner and the money would go towards funding more Play Pumps in Africa.
Have you registered with us yet?
Register now to enjoy more articles
and free email bulletins.
Register now
Already registered?
Sign in