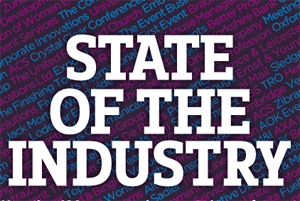 If the headline news for 2008 was that corporates ran a healthy number of projects, then this year represents a step into the unknown - budgets are under threat and cutbacks in corporate event teams have become a worrying trend.
Even so, there are a number of positives to keep hold of. While fear of being seen to be spending frivolously during a recession is keeping more business close to home, there is some evidence that corporates are doing what the whole industry hopes they will do - that is plan to market aggressively during the downturn.
The latest C&IT Corporate Survey collected results from 50 senior client planners from across all major event sectors. For the first time, corporates were surveyed this year about how many events they organised and whether that number had increased year on year.
The results were positive. On average, client planners handled 62 groups in 2008. Almost half had seen that number grow compared with 2007, with 44% seeing an increase, 38% saying the number had remained static and just 18% witnessing a decrease in the number of events.
Budget dips
This increase in the number of events is to be heralded, of course, but if these are smaller events with budgets pared back, then it casts the figures in a starker light. And while incentive budgets have remained pretty much static at £1,570 per head, C&IT's latest research shows an average spend per conference delegate of £354, down from £760 in 2007. It should be stated that although the two groups of corporate respondents this year and last are not identical, there is the hint of a sobering trend.
Tesco event manager Kate Conway makes no bones about how the retail giant will be focusing on cost control. "We are doing exactly the same amount of events, but obviously we are looking closely at budgets," she says. "We are not changing the types of events we do and we are not reducing delegate numbers, but we are looking at getting better rates from suppliers. We will be adhering closely to company procedures - we use a venue-finder and all bookings will have to go through them."
Budgets will be closely scrutinised, but there is some evidence of growth in the face of the downturn. Yvonne Ashmole is part of the three-strong events team at financial services brand Watson Wyatt. The company ran 28 events in 2008. "That will increase again in 2009," she says. "In the current climate, it is a vital way to stay in contact with our customers."
However, she adds that her scheduling is adapting to the circumstances. "With the financial picture so changeable, we are getting a lot of short-notice requests for events such as seminars and training, covering topical issues," she says.
While it is good news that Watson Wyatt is putting such store in face-to-face marketing, there is another side to this. According to Ashmole, internal staff events "are completely out".
Destinations
If the recession is ultimately to create some kind of new world order for the events industry, the destinations chosen by corporates over the next 12 months will probably be a powerful indicator, reflecting not just budgets but the types of events and external perceptions involved.
A look at the top UK and overseas destinations for 2008 appears to bear this out. While London easily led the UK poll, less traditional destinations feature in the top ten (see box). These include the Cotswolds and, notably, Salisbury, which has sprung into the rankings.
In the overseas top ten, every destination bar the UAE and the US was European, with Ireland taking top spot in this first corporate poll. Hannah Bolton, conference organiser at the Actuarial Professional, is not surprised considering the current climate.
"There's a reluctance to go too far abroad because of perception," she says. "But venues in Ireland seem to be a good compromise. We have used Dublin and Killarney and tend to use London for one-day events."
Alison Taylor, head of risk communications at Royal Bank of Scotland, agrees, adding that while cost-cutting and being mindful of the public mood are understandable, they risk undermining what events are meant to achieve.
"There is little overseas travel at the moment," she says. "Budgets for the next year are yet to be signed off but they're unlikely to increase. Companies are going to find it challenging to keep their staff motivated without resorting to incentives."
Salaries
This year for the first time, C&IT surveyed corporates on salaries, asking each respondent to outline the average pay for junior event planners, event managers and heads of events. As well as benchmarking pay for the first time, the plan was to draw workable comparisons with agency salaries at entry, middle and senior management levels.
The responses were a mixed bag, with pay scales generally lower for corporate event staff than their agency counterparts. Junior planners averaged £20,293, event managers £27,379 and event heads £45,050, against agency averages of £23,781, £40,602 and £62,521 for account executives, account directors and directors respectively.
Event recruitment specialist Linda Raymonde says she doesn't see much to argue with in the figures and has seen jobs advertised on both sides at those rates - but notes that there are points to consider that can skew the data.
"The figure for the heads of events would immediately appear to be very low, but then many senior corporates lead small teams or operate alone," she says. "If you strip out the mega-earners in charge of the very large teams, then the figures are about right."
On the whole, Raymonde says corporate pay tends to be around 20% higher than at agencies, with corporates offering a less varied but more secure proposition. Corporate event heads have also reacted to the downturn, she adds: "Traditionally, corporates offer very good benefits packages from day one, but now many are delaying their introduction to incentivise people to stay on."
Encouraging people to stay is one thing, but jobs are being cut as well. The client survey saw the average corporate event team number 6.73 people, and 34% of respondents said that number had increased since 2007. Notably, Barclays made a high-profile move to increase its event team to 33 staff. Against that, C&IT has reported the likes of BMW cutting posts and Pfizer outsourcing events completely.
On the whole, Raymonde says, corporates are cutting back. "I have seen corporates tightening their belts and reducing the size of teams, particularly in the financial sector," she says. "These are the same patterns we have always seen, but there is more fear out there this time than in previous downturns."
Conclusions
In conclusion, it's clear - if unsurprising - that the same cautious approach that agencies are adopting is ringing true with corporates. However, if enough get the go-ahead to emulate Watson Wyatt in upping events in order to drive business, there might be better news sooner than many would predict.
Jacqui Davies, head of the internal events agency at financial giant Zurich, says the company will be keeping faith with live marketing. "Events are as important to us as they have ever been, if not more so," she asserts. "We have the same amount of work on our books as last year and we are keeping the same level of resource."
Those in the wider industry will hope other corporates are adopting a similar stance.

TOP 10 UK
1 London
2 Scotland
4 Birmingham
Edinburgh
Salisbury
6 Surrey
Brighton
Manchester
9 Cotswolds
Glamorgan

TOP 10 OVERSEAS
1 Ireland
2 USA
3 Rome
UAE (including Dubai)
5 France
6 Barcelona
Spain
8 Berlin
Copenhagen
Switzerland
Have you registered with us yet?
Register now to enjoy more articles
and free email bulletins.
Register now
Already registered?
Sign in